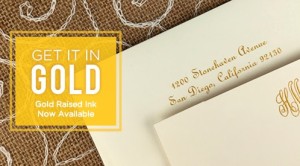 Now you can add even more luxury to your favorite Giftsin24 stationery by selecting GOLD raised ink. We've added this shimmery hue to our lineup of raised ink colors, so you have even more choices.
If you love wearing gold, why not add it to your stationery?
For bordered cards and notes, pair gold lettering with a black border on stark white paper for an opulent feel.
To achieve the ultimate princess look, combine gold lettering with a fuchsia border.
Check our all our raised ink products for the new gold lettering choice. Let us know what you think. We'd love to hear from you.