Guests will arrive at any moment. The candles are lit. Warm cider is heating up on the stove, infusing the air with its spiciness. A lovingly prepared roast or chili is ready to serve. How have you set your table? Perhaps a pretty tablecloth in a warm hue, an interesting arrangement of fall leaves or small gourds. And next to every plate: personalized party napkins with a fall-themed motif.
How about your drink cart? Of course you'll have pretty glasses with all your favorite beverages. Imagine yourself handing a freshly poured drink to your guest with a napkin. What does it look like?
Fall is a time to celebrate the bounty and beauty of our lives, as well as the deep, meaningful relationships with our family and friends. Customize napkins with your family's name. Use a family motto or slogan, such as "Embraced in love" or "Gratitude is an attitude" or "Live, laugh, love." Add an embossed or foil-pressed pumpkin, leaves or other motif.
Here are some of our favorite fall-themed napkins, which you can personalize as you wish. Delight your guests with this special touch at your dining table, drink cart or buffet.
5 Fun Fall Party Napkins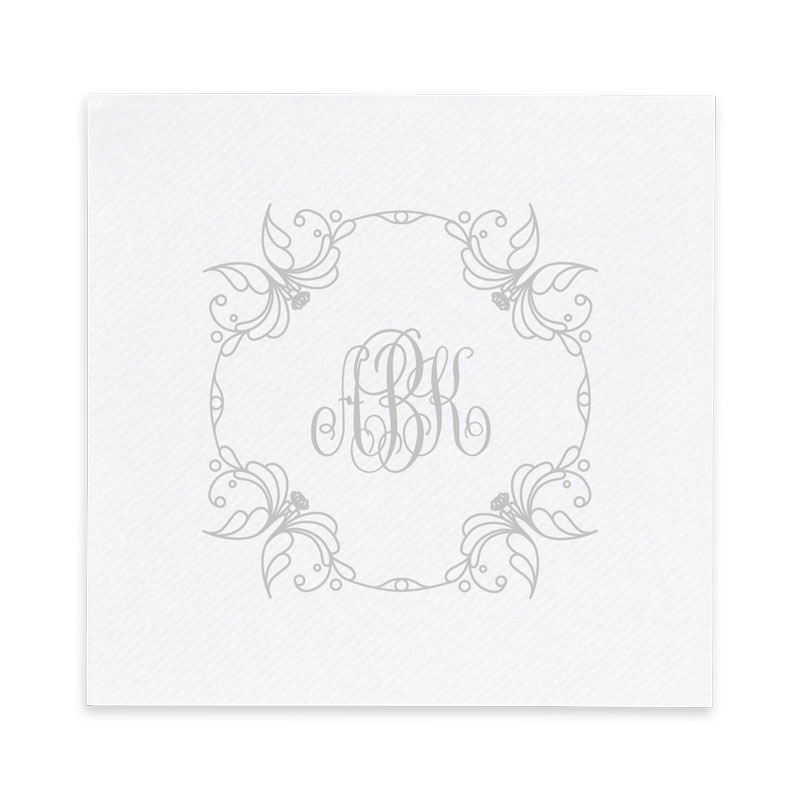 Lily Monogram AirLaid Luxury Napkin: For a fancier gathering, try this sophisticated floral foil pressed design accented with your personal monogram in one of 10 lettering styles. The AirLaid napkin is imported from Germany and features a soft, absorbent material. Select from a variety of foil colors to match your party decor.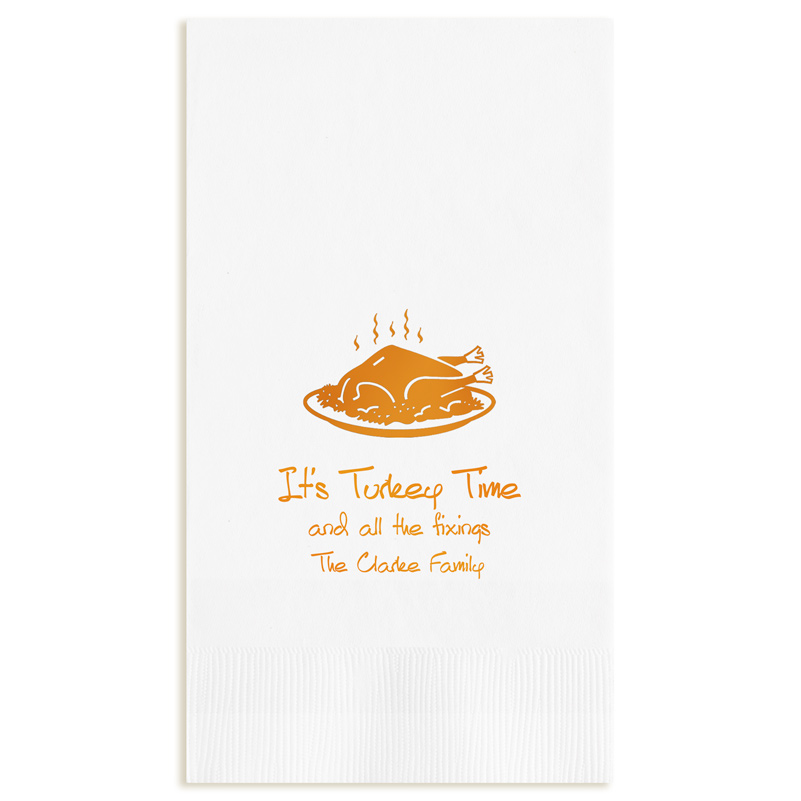 Autumn Guest Towel: Strike a warm and inviting note on your party table or buffet with these paper serviettes, which come in a large array of foil ink and paper colors to match any decor. Choose a festive lettering style and a fall-themed motif, such as the Thanksgiving motif shown above. These high quality, three-ply construction guest towels include a bordered edge.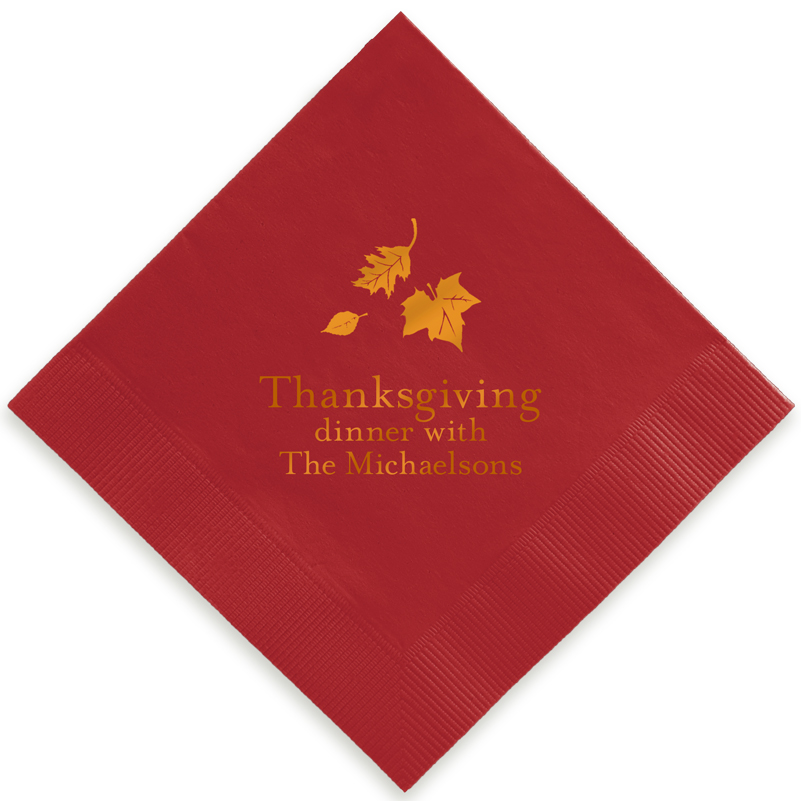 Autumn Foil-Pressed Napkin: Add some shimmer and shine to your napkins with attractive foils in fall colors, including Gold, Silver, Copper, Orange, Red, Purple, Emerald, Teal, or Black. Include up to three lines of personalization on these adaptable and beautiful napkins. Choice of lettering style. Motifs include: fall leaves (shown above), harvest cornucopia, turkey and pumpkins.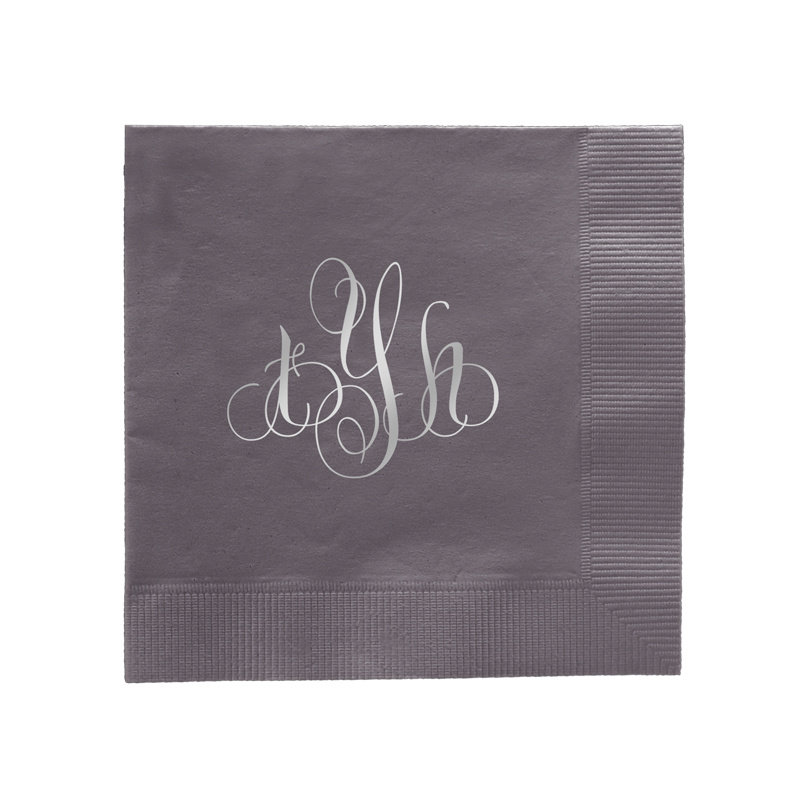 Elise Monogram Foil-Pressed Napkin: Perfect for the drink cart or bar area, this foil-pressed napkin is understated yet elegant. The combination shown above offers a modern update on a classic combination: silver foil lettering on grey paper. The three-ply paper feels thick and luxurious.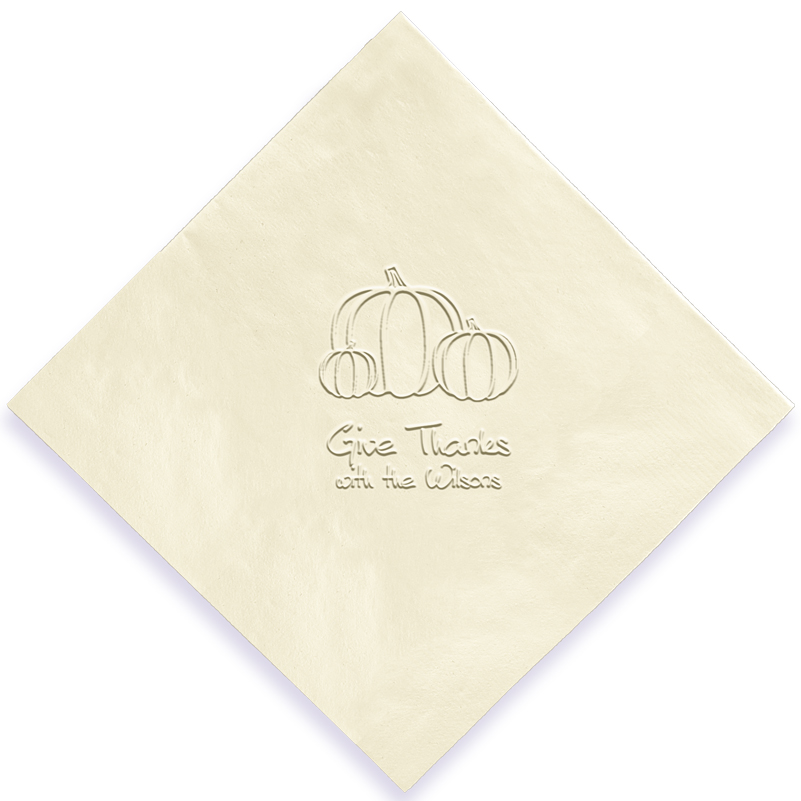 Autumn Embossed Napkin: Strike a cheerful note on your party table or buffet with these embossed napkins. Embossing is a classic choice when you want to strike a traditional tone. Choose a paper color that coordinates with your tablecloth or other decor, which leans toward the warm colors, such as White, Ivory, Navy, Black, Gray, Silver, Red, Sand or Wine. Create up to three lines of personalization that mark the occasion and select a fall-themed motifs: fall leaves, harvest cornucopia, turkey and pumpkins.
See all of our napkins and guest towels here. You are sure to find the perfect napkin that will give your party table that finishing touch. It takes just minutes to create personalized napkins and guest towels, and they'll arrive at your door in just days.