When you pour that frothy, fun drink for a guest and hand it over, don't forget to also give them a cocktail napkin. It may feel like a silly extra, but there are several really important reasons: If it's a cold drink, the napkin will help insulate their hands. If they decide to put it down on a table, the napkin will help protect the table. If they accidentally dribble the drink on their arm, down their shirt or on your floor, the napkin will be close at hand.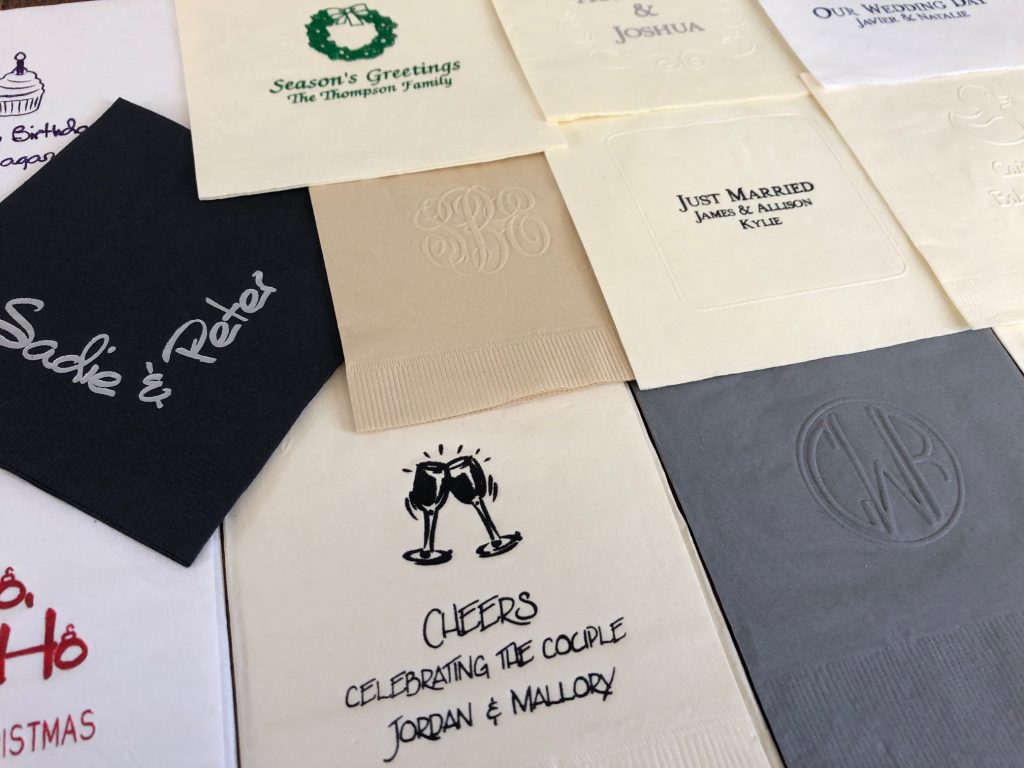 What size is a cocktail napkin?
Why hand them a cocktail napkin and not a dinner napkin, tea towel or other type of napkin? A cocktail napkin is perfectly sized… not too small and not too big. Here at Gifts in 24, our cocktail napkins, when folded, measure 5 inches by 5 inches, or 4.75 inches by 4.75 inches. (Unfolded, they are 20 inches by 20 inches or a little less.) That means they fit in your hand without feeling bulky or bunchy.
Cocktail napkins are typically made from paper, so they are absorbant, but that also makes them more streamlined and stiff. A larger fabric napkin would flop around and feel unwieldly.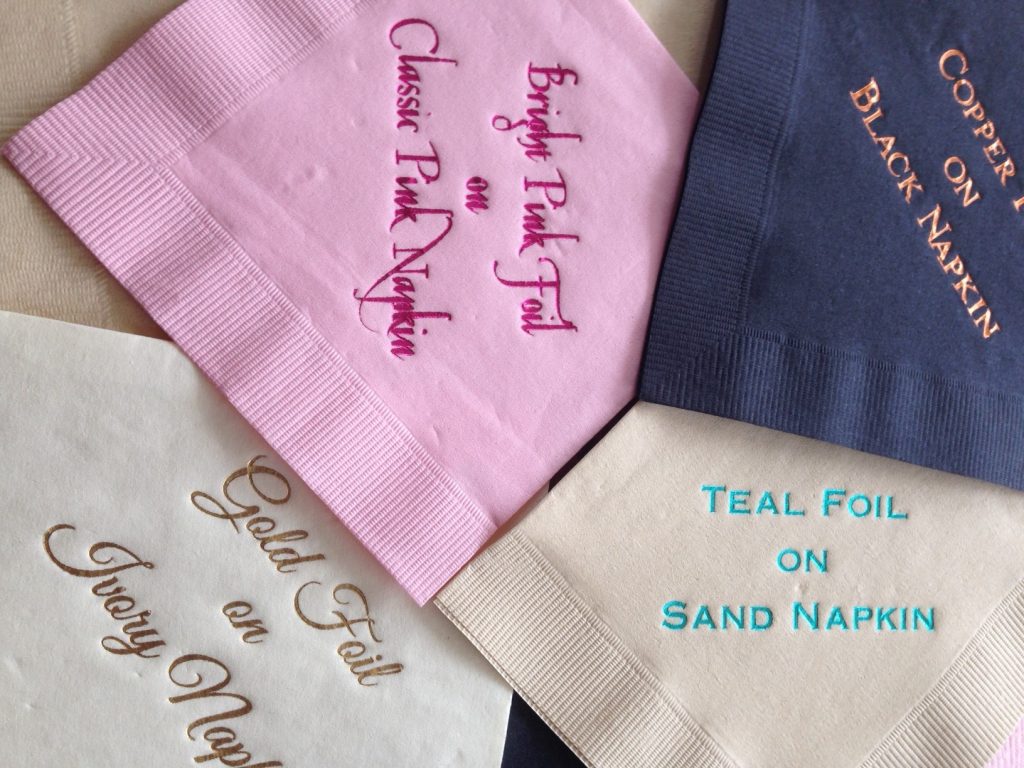 How can I personalize cocktail napkins for the occasion?
Another reason to include cocktail napkins at your next party is purely an aesthetic one: a personalized napkin that's created with your room decor or party theme in mind can really add to the flavor of the event. Our napkins come in 12 paper colors and 14 foil colors. We offer dozens of lettering styles and graphic motifs. You are sure to find a combination that complements — or even heightens — the mood and tone you intend to set with your party.
So if you're toasting to a newly engaged couple, you can add their names to the napkins. If you're celebrating a proud Ph.D. student, you can include graduation themed artwork in her school colors. If you're hubby just turned 50, we've got fun birthday motifs for that, too.
When would I use a monogrammed cocktail napkin?
All the time! They're particularly useful for small gatherings where it wouldn't make sense to order 100 napkins specifically personalized for the occasion. In other words, keep a stash for impromptu gatherings. Maybe you've invited the new neighbors for a quick drink after moving in? Monogrammed napkin! Did you invite your office co-workers, and your boss popped in, too? Did your college roommate call and let you know she's coming into town Friday and wants you to meet her fiance? Monogrammed napkin! They're elegant without being snobby, appropriate without being too specific, and eminently affordable. Keep a supply with your partyware and you'll always feel prepared.
Want to see our beautiful designs? They come in foil-pressed, embossed, monogrammed, and luxury.