Father's Day is Sunday, June 18. How will you surprise and delight Dear Old Dad? He's been around the block a few times and knows all your tricks: the novelty tie, the fishing-themed card, the white knee socks. These are tried and true, and to be honest, perhaps a little too tried…and tired. Maybe it's time to branch out a little this year and consider these truly unique Father's Day gifts. We've got some great ideas to take your gift from blah to ahhh-mazing.
Old "blah" idea: Socks.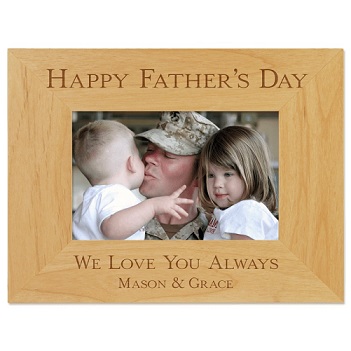 Yes, we grant he probably does have holes in his socks and may be in need of new ones…but won't he be surprised if you give him a gift for his heart, rather than his feet?
Give your dad a very special personalized picture frame using his favorite photograph. This is what makes it unique: you can include up to three lines of personalization in one of six lettering styles. Beautifully crafted from solid wood. Hang on a wall or display on a table or shelf. Photo size is 4″ x 6″.
Old "blah" idea: Beer cozy.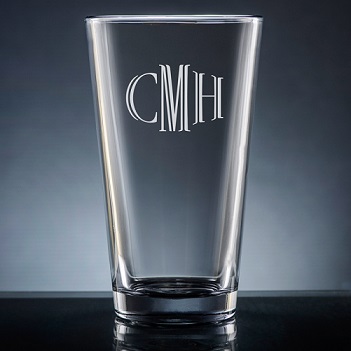 Ahhh. The beer cozy. It's the ultimate easy choice in Father's Day gifts. But these get grimy pretty quickly. Truly…how long will a new one last before it finds its way to the trash?
Customize this 16 ounce pint glass with one of 10 exclusive monograms, including Classic, Circle and Whitlock. Get dad two or three so he can kick back with friends. Clear glass. Dishwasher safe.
Old "blah"  idea: Baseball cap.
Yeah, he has twelve of these hanging in his closet already.
Perfect for a man cave or home entertainment room, this wall sign offers one of line of text and a choice of lettering style. Hang it with the included 4 wall-safe adhesive mounting squares or display it on a shelf with attachable supports. Laser cut from .25 inch MDF board in white, black or neutral.
Old "blah" idea: Tie.
More and more workplaces are going business casual. If he only wears ties at weddings and church, it wouldn't hurt to let him pick out his own.
Everyone needs his own stationery. After all, thank you notes are must-do, basic forms of etiquette. He can also use these for quick notes to college-age children or a birthday card for his mom. Simple but powerful, the One-Line Note features Dad's name crisply embossed in an all-caps font, surrounded by bullet points. It's a classic design that's the opposite of frilly and frou frou. The folded note is precision-crafted from double-thick paper in a choice of white or ivory. Comes with 50 Pinnacle pointed-flap envelopes. Opt for the embossed return address, hand-inserted envelope linings, border or 100% cotton paper to create special Father's Day gifts.