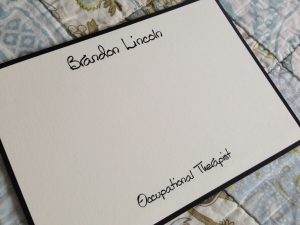 Whether you're sending a note of congratulations or love, there's nothing like personalized correspondence cards (also called flat cards or notecards) to make it special.
Made to reflect your style and name, correspondence cards are elegant enough to be a time-honored tradition, yet meaningful enough to make a heartfelt impression. That's why, when you are taking the time to handwrite a note, correspondence cards are the perfect way to do it. Use them for sympathy notes, thank you cards, congratulations wishes and more. If you're looking to create and write the best correspondence cards possible, here is what you'll want to know.
Correspondence Card Etiquette
There are certain hallmarks of correspondence cards, traditionally speaking. A correspondence card is a specific size: slightly larger than the modern A6 postcard size. It should also be a heavy enough weight of paper to create a premium feel — ideally not less than 350 grams per square meter (GSM). Include your contact information: usually your name, address and phone number. It may also feature other details such as an email address, a website and/or a social media username if desired. As for the message, write your note on only the front — never the back — of the card, and your writing should be brief and sweet. Correspondence cards belong in envelopes printed on high-quality paper. If you really want to make them special, use traditional wax seals.
Timeframe for Sending Specific Types of Cards
The timing of certain cards depends on the occasion — yet there is always flexibility. Etiquette dictates you should send sympathy cards, for example, within two weeks of someone's death. At the same time, expressing condolences is still appropriate weeks or even months after that point, as it communicates care to a grieving person. With thank you notes — whether for birthday, anniversary, graduation, shower or baptism gifts — ideally send notes within four weeks of receiving presents.
What Makes Personalized Correspondence Cards Special?
The elegance of correspondence cards is in the attention to detail. Rather than generic paper, they feature heavier, higher-quality paper. This gives each notecard a sense of importance. Likewise, correspondence cards are as unique as you are, made to showcase your style. At Giftsin24, we offer a wide selection of cards to give you plenty of ways to customize them. Create your design with a monogram and choice of lettering. We also offer a variety of decorative elements such as crisp embossing, rich raised ink, borders and more.
For the best personalized correspondence cards, Giftsin24 is your resource. Our established, family-owned company not only creates the finest cards in the industry, but we also provide a fast turnaround on all designs. Most orders ship within 24 hours, so you can get what you need quickly. We provide free FedEx ground shipping, exceptional packaging and a commitment to order accuracy on every card set.
Browse our personalized notecards online and place an order today!