Looking for a go-to gift that's versatile, easy-to-order, and affordable? We've got it! It's rare to find gifts under $5 that are also high quality and a joy to give…but this one is the trifecta perfecta!
Friends and Family Tablet Sets. Make these your go-to gift. Many of our customers swear by them.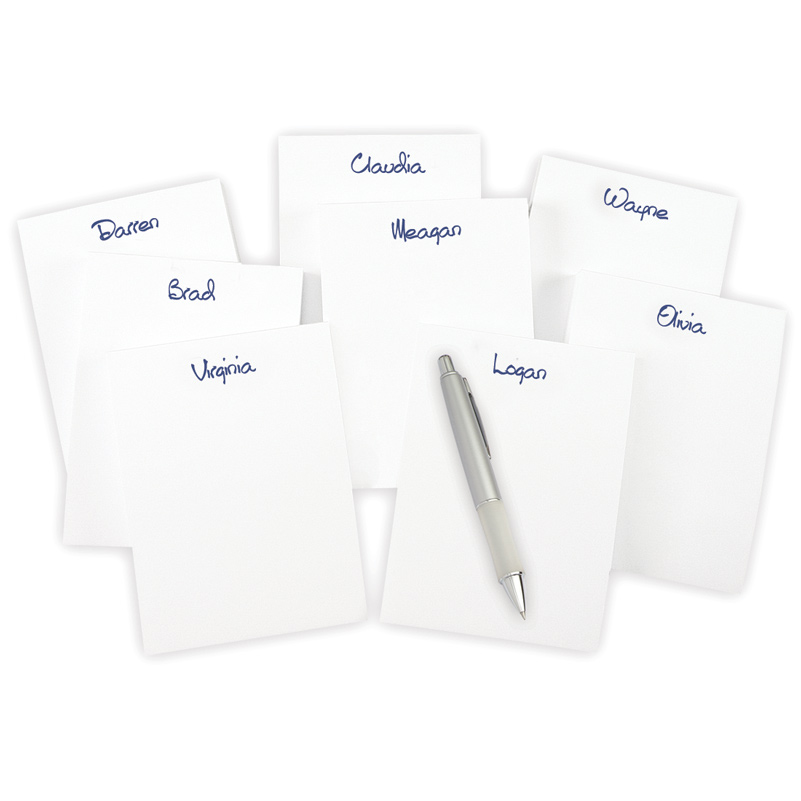 Here's the concept: Check your calendar for upcoming birthdays for the next few months, give us 8 names, we'll send the tablets to you by the end of the week, and you can put them in your gift closet until the birthdays roll around. So easy, right?
Easy-to-Order
With one order, you'll purchase 8 personalized gifts at once. It's an easy, efficient way to create thoughtful gifts for a group. Think officemates: Add "Samantha" to one tablet, "Grace" to the next, move on to Abigail, Veronica, Madison, Taylor, Sheila and Ann. Press "order" and you'll receive 8 personalized tablets in 2-5 days (depending on where you live) and they'll arrive ready for giving.
Your officemates will never know it was so painless for you. All Samantha and the others will see is their own name carefully and beautifully printed on a high-quality note pad in a vivid ink color. They'll think you worked for days planning, tracking down, and creating this thoughtful gift. Only you will know it took you less than 5 minutes to order and arrived at your door in a matter of days.
Versatility
Same goes for your children's teachers, kids' party favors, bridal party gifts, Christmas gifts and more. Just add a name to each of the 8 tablets (Mr. Seymour, Ms. Brown, etc. or Preston, Declan, Aiden, etc.), choose your ink color, and we'll print them for you in 24 hours and ship them out to you. Voila–thoughtful, attractive gifts under $5!
We offer our classic design, as well as a new Santa Cruz line with a snappy double-border introduced in 2020. Both offer a choice of 10 lettering styles, including our ever-popular Anthony font, and a choice of ink color.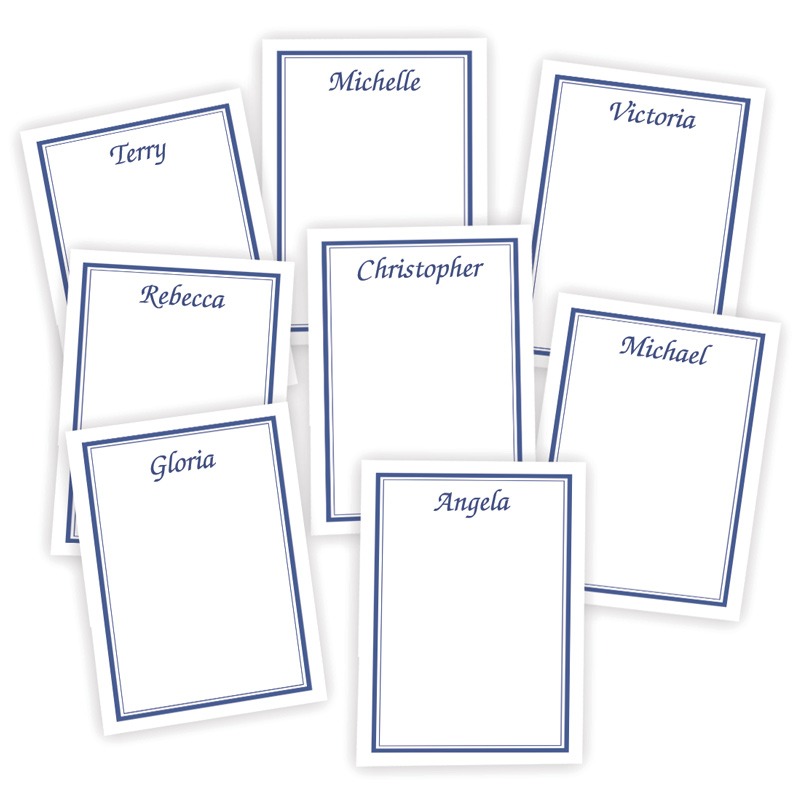 Affordability
Here's another beautiful thing: At the regular price of $29.95, each tablet works out to $3.75. And if you add another item to get to the $35 free shipping minimum, the picture just keeps getting better and better.
Each tablet is made with our high quality paper. Each sheet is 80 lb text, like nice thick copier paper. There are 100 sheets per tablet. And each sheet is a generous 4.4 inches x 6 inches, so there is plenty of room to write.
So get a jump on your 2021 gift-buying for birthdays, graduations, new homes, and end-of-year teacher gifts. You'll avoid the mad scramble… and your bank account will thank you!