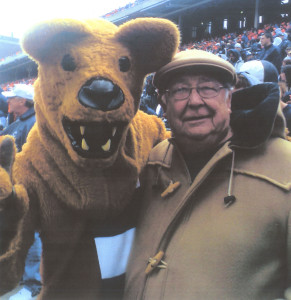 Write Dad a letter on Father's Day to tell him how much he means to you.
No matter how old we get, our fathers are still our dads. We look to them for guidance and advice.  Sadly, I no longer have my own Dad (pictured here with The Nittany Lion at a Penn State game), but I have wonderful, touching and funny memories. He was an example of a modern-day dad at a time when it wasn't the norm, and he was a role model for his family.
If you're fortunate enough to still have him, write Dad to tell him how much he means to you. A hand-written letter, in simple and heartfelt words, will mean the world to him. More than any tool, tie or gadget, a letter will be treasured and saved. He can read it whenever he wants to be reminded of how much he's loved.
Tips for Writing a Letter to Dad on Father's Day
Here are a few ideas on what to write to Dad:
Tell him how much the time spent with him at a special event or outing meant to you: "Dad, remember that camping trip we took when I was twelve? We had such a great time!"
Remind him of something he taught you: "I'll never forget the afternoon you taught me how to fish and it started storming while we were out on the lake."
Share a personal reflection or humorous anecdote: "I still laugh every time I think about that time you ….. "!"
Let him know how a piece of advice he gave you impacted your life: "I don't know what I would have done without your help during that time. It really made a difference. Thanks, Dad."
If you have your own family now, share your thoughts about fatherhood and your Dad's role in shaping your beliefs: "Thanks for showing me what being a dad is all about. You've always been a great example for me."
Let your Dad know you're proud of him. Tell him that you appreciate his love.  And remember:
"It's admirable for a man to take his son fishing, but there is a special place in heaven for the father who takes his daughter shopping." (John Sinor, San Diego Tribune newspaper columnist)