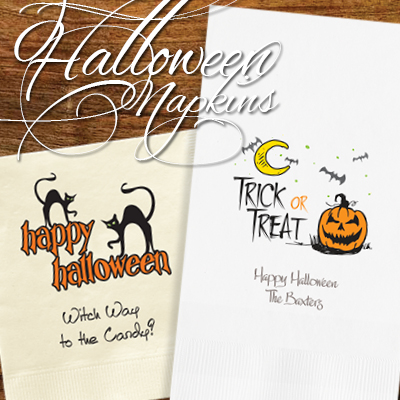 Halloween is just around the corner, and it's time to start planning your ghoulish gatherings! While costumes and decorations take center stage, don't overlook the small details that can elevate your Halloween party to the next level of spooktacular. One of those often underestimated details is the Halloween party napkin. In this article, we'll delve into the benefits of using personalized Halloween party napkins from Giftsin24.com to add a touch of eerie elegance to your haunted soirée.
Setting the Mood
Halloween is all about creating a festive and spooky atmosphere. Personalized Halloween napkins can set the tone for your party theme, whether it's creepy haunted house vibes, classic jack-o'-lanterns, or elegant gothic designs. These napkins instantly transform your party space into a Halloween wonderland.
Unique Personalization
Giftsin24.com offers a range of customization options, from monograms to themed artwork. Adding your own personal touch to the napkins can make your Halloween party truly one-of-a-kind. Imagine your guests' delight when they see their initials or a special Halloween message elegantly printed on their napkins.
Convenience and Cleanliness
Halloween parties often involve lots of deliciously messy treats and beverages. Having personalized napkins on hand ensures that your guests can wipe away crumbs, spills, and sticky fingers without fuss. Plus, it adds an element of practicality to your spooky soirée.
Conversation Starters
Unique and personalized Halloween napkins can serve as excellent conversation starters. Guests will admire the attention to detail and creativity you put into your party preparations. You might even hear a few "Where did you get these?" inquiries, giving you a chance to share your source of Halloween party inspiration.
Party Favors
Looking for an easy and fun party favor idea? Giftsin24.com's Halloween napkins make fantastic keepsakes for your guests to take home. They'll remember your hauntingly awesome party every time they see their personalized napkin.
Photo Opportunities
Your Halloween party is incomplete without some Instagram-worthy moments. Incorporating personalized napkins into your décor adds a level of sophistication to your party setup, making it picture-perfect. Encourage your guests to snap and share their spooky napkin photos!
Easy Cleanup
After the party is over and the last ghost has left, the cleanup process begins. With personalized napkins, cleanup becomes a breeze. Simply gather the used napkins and dispose of them. The convenience of disposable napkins means you can focus on enjoying the party instead of worrying about the post-party mess.
Complete the Look
Every detail counts when it comes to hosting a memorable Halloween party. Personalized Halloween napkins are the finishing touch that ties your decorations, table settings, and overall ambiance together in a cohesive and stylish manner.
Elevate Your Halloween Party with Personalized Napkins
As you prepare to throw the most spooktacular Halloween party of the year, consider the benefits of using personalized Halloween napkins from Giftsin24.com. These napkins not only enhance the visual appeal of your party but also offer practicality, personalization, and convenience. From setting the mood to providing unique party favors, these napkins are an essential addition to your Halloween celebration. So, get ready to impress your guests with an elegantly eerie touch that makes your party truly unforgettable!