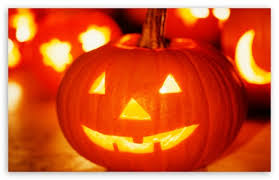 Trick or Treat! Halloween will be here in just a couple of weeks, and it's all about having fun. Who doesn't love costumes, pumpkin carving and trick-or-treating? The spooky spirit and element of surprise makes this holiday fun for all ages. You never know when something is going to pop out and scare you!
Here's a little trivia to get you in the Halloween mood:
• Halloween is the second highest grossing commercial holiday after Christmas.
• The first Jack O'Lanterns were actually made from turnips, not pumpkins.
• Boston, Massachusetts, holds the record for the most Jack O'Lanterns lit at once – over 30,000.
• The average American household spends $44 a year on Halloween candy. The top selling candy: Candy Corn.
• A whopping 90 million pounds of chocolate candy is sold during Halloween week.
Plan Your Halloween Napkins and Other Decor
Now that you know the facts, it's time to plan your Halloween bash. Giftsin24 has the perfect Halloween napkins and guest towels for all your holiday fun. Serve up appetizers, desserts and beverages with our spooky Halloween-inspired napkins. Choose from ghosts, cats, pumpkins and bats! We will foil-press your design in your choice of shimmering color. The napkins will delight your guests with their whimsical appeal.
Attending someone else's Halloween party? Bring them a gift of personalized autumn-themed napkins and make their next event, like Thanksgiving, a little more colorful. They'll love the warm designs and the personalization.
Giftsin24.com has the greatest selection of low-priced personalized snack and beverage napkins. Our everyday low prices make it affordable to create personalized napkins for every event.
We have the absolute best Halloween napkins and we ship your order in 24 hours. Set the mood for a spooktacular Halloween party this year!