Nothing says quiet sophistication quite like classic a embossed monogram. Giftsin24 has a large selection of monogrammed notes and cards to choose from. We have traditional script monograms, classic initial monograms and eclectic, artistic monograms. All of our monograms are deeply embossed and showcase your initials in delicate detail. Whether you personalize a foldover note or a flat-panel card with your personal initials, you will appreciate the fine quality and exceptional beauty of our monograms.
Choose from a prominent 2 ½" size monogram or a traditional 1 ½" monogram, embossed borders and frames, and multiple paper colors. Our paper is smooth and thick – a pleasure to write on. You will truly enjoy corresponding with these luxurious papers!
Need help choosing? Here's a little Monogram Etiquette 101:
• Couples – The monogram will be the bride's first initial, the couple's last name, and the groom's first initial, in that order. For example, Mary and John Smith would be M S J.
• Women – A woman's monogram is traditionally presented as first, last and middle initial. So Mary Elizabeth Jones would be M J E. It is always appropriate to use a woman's initials in this way, even if married; however, it's more common to use her first, maiden and married surname if she does marry. For example, Mary Elizabeth Jones Smith would then be M S J.
• Men – A gentleman's monogram is often done in first, middle and last initial order. John Andrew Smith would be JAS. In this instance, the initials are all the same size. You may also choose to put the gentleman's surname in the middle, as J S A, with the center initial larger in size.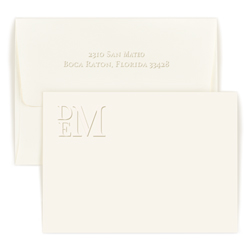 • Children – A child's monogram follows the traditional first, last, middle initial order.
As with any monogrammed gift, you will want to consider the age and tastes of the recipient – traditional, modern or whimsical.
The sculptured look of embossing has a timeless appeal. It's a classic that never fails to impress. Browse our selection at Giftsin24.com today and find the perfect gift for every occasion.