Here at Giftsin24, we're always working to offer you the most exciting stationery designs. That's why our graphic artists strive to create beautiful monograms and one-of-a-kind  lettering styles. In fact, this month we're so pleased to offer four new monogram notes in raised ink – Whitlock, Elise, Paris and Firenze Monogram. Each is a work of art. Intricate swirls and eclectic letters combine to create stunning monograms.
Victorian typography inspired the royal and impressive  Whitlock Monogram.
Dream of the sunny Mediterranean and correspond with the Firenze Monogram note, where Italian flair meets American ingenuity.
Or showcase your joie de vivre with the graceful Paris Monogram note.
Our New Monogram Notes Make Beautiful Gifts
A new monogram note is the perfect gift for the writer on your list. We offer each set of notes on smooth, luxurious paper in a choice of 10 glossy raised ink colors. We include 50 matching envelopes. To add even more luxury, we wrap your order in tissue and nestled it in a champagne colored gift box. The presentation is as beautiful as the stationery itself.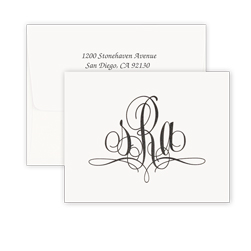 Giftsin24 is the leading manufacturer of social stationery in the country. Combined with our exceptional quality and manufacturing, we produce the very finest in personalized writing papers. Furthermore, we offer you amazing stationery at affordable prices. In addition, you can take advantage of our fast production and free FedEx ground shipping for all your gift-giving needs.