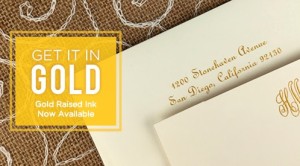 Now you can add even more luxury to your favorite Giftsin24 stationery by selecting gold ink. We've added this shimmery hue to our lineup of raised ink colors, so you have even more choices.
If you love wearing gold, why not add it to your stationery?
Options in Gold Ink
For bordered cards and notes, pair gold lettering with a black border on stark white paper for an opulent feel.
To achieve the ultimate princess look, combine gold lettering with a fuchsia border.
Gold ink looks gorgeous with ivory paper. On white paper, it takes on a regal feel.
Check our all our raised ink products for the new gold lettering choice. Let us know what you think. We'd love to hear from you.
Raised ink cards  Personalized with your unique message, our raised-ink cards are a masterpiece. Choose among a wide range of vivid colors, including our newest one — gold — and we will use a process known as thermography to give them a raised texture and shimmery shine. Customize your raised-ink card with your favorite quote, phrase or saying.
Raised ink notes  Our Raised-Ink Notes are created with the high-quality printing technique called thermography, which uses heat and powder to create a textured personalization. This unique result looks elegant and luxurious. Surprise your family and friends with this striking gift. Choose from a variety of modern, professional and fun-looking designs for the home and office.