Short cuts are a necessity in our modern age, no doubt about it. Life moves fast, and you don't want to miss the important parts because you're lost in the minutia of a bunch of busy work. So, how important is it to use quality stationery when writing a thank you note? Consider these scenarios:
Your aunt has given you a beautiful gift: she thought of a gift idea that matches your taste and desires, purchased it, wrapped it beautifully and presented it to you on your birthday. That was a lot of effort!
Your neighbor spent 12 hours of her time watching and feeding your kids for you on no notice when you had a family emergency.
Your mother's friend flew into town for your mother's funeral, and had a beautiful display of flowers delivered to the service.
In these cases, will a pack of thank you notes from the big box store in your town serve? Um…we think not.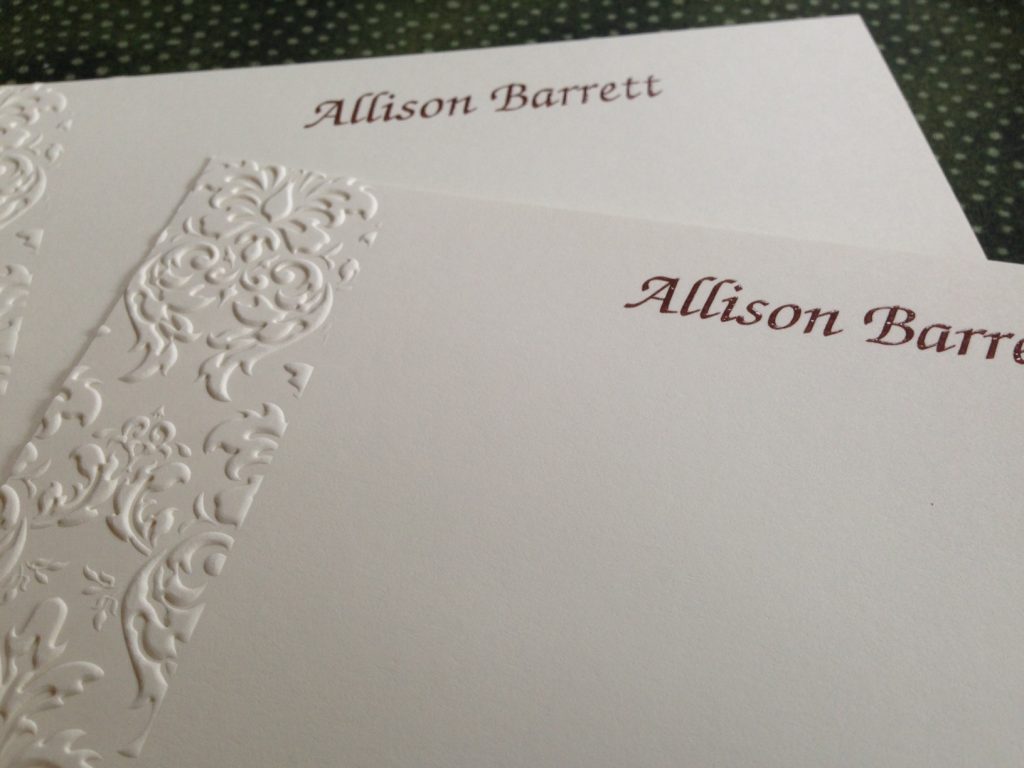 If you want to correctly thank the people important to you — those who show you much consideration and generosity of heart — you'll want to use superior stationery that befits the occasion: personalized stationery with your name or monogram, precision-crafted to exacting standards.
So how can you know what "good quality" stationery is? How will you know it when you see it? A lot of it has to do with the printing.
Gifts In 24 creates beautiful stationery on high quality papers and designed by professionals. You have your choice of a variety of stationery using 3 main printing methods: embossing, thermography and foil-pressing.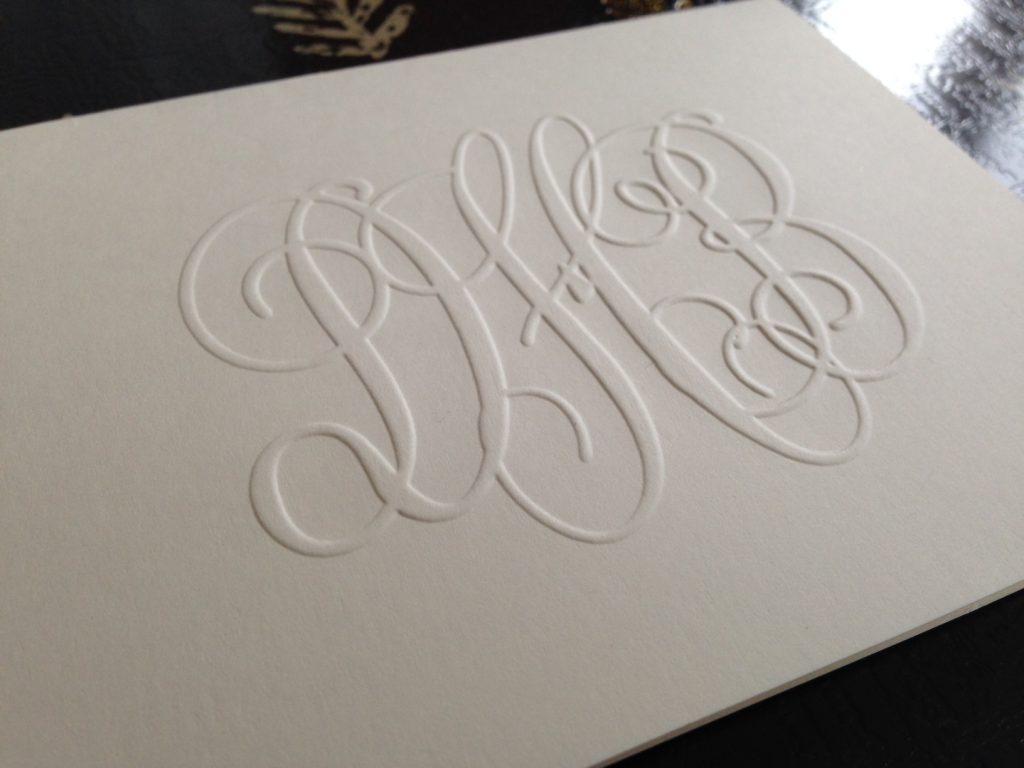 Embossing
Embossing, sometimes called "blind embossing," is a classic choice. In this process, paper is squeezed between two molds, or dies, to create a raised impression on the top surface of the paper. As in the Henley Traditional Monogram Note, shown above, no ink is used, and so the name or monogram is delineated by the simple change in texture of the paper. Excellent embossing is highly valued and a sign of quality. How can you tell high-quality embossing from poor-quality embossing?
Look at the front of the paper. The edges of the letters or design should be crisp. This crisp quality is harder to achieve with thicker paper (but, of course, we've got that figured out.)
Now, look at the back of the paper. You should see a deep texture change behind the letters or design. The paper should have been squeezed up and into the embossed pattern or lettering. If there's just a shallow impression, then the embossing is inferior.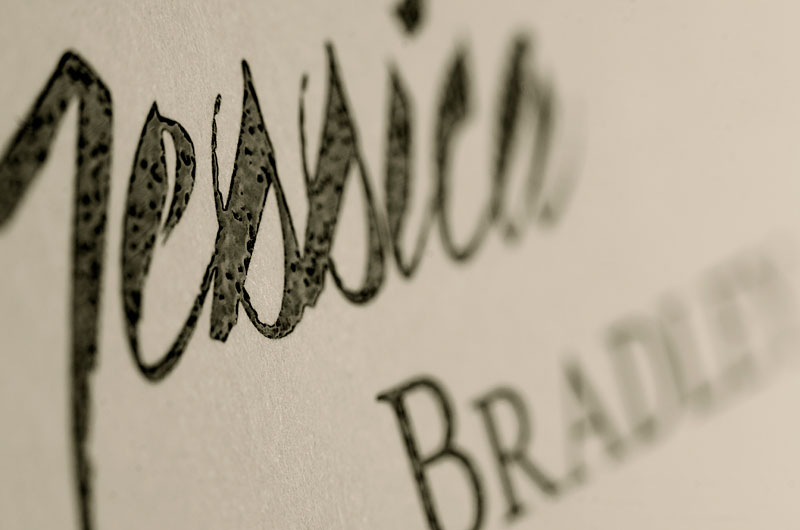 Thermography
Sometimes called thermographic printing or raised-ink printing, thermography uses heat to fuse powder and ink. Thermography creates a shiny, raised personalization. The back of the paper remains smooth, because all of the printing process happens on the top of the paper. Our most popular raised-ink colors are black and navy.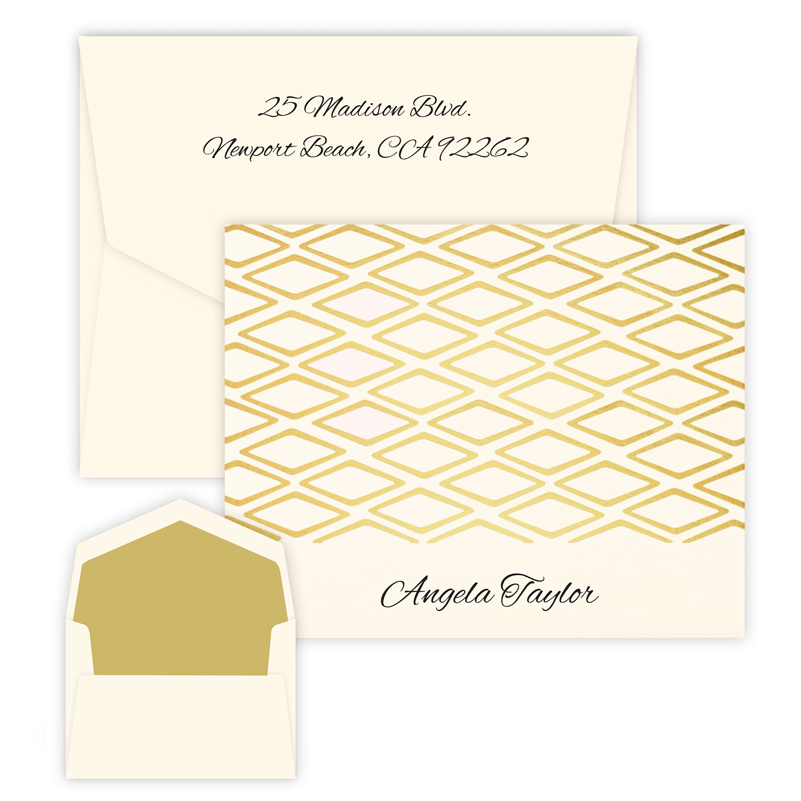 Foil Pressing
Some of our stationery features foil-pressed details, such as a design. Here, as in the Infinity Note shown above, we apply heat to foil during the printing process. There is a subtle texture on the top of the paper, but the main effect is a vibrant, shiny design that beautifully contrasts with the flat, matte paper. If you would like a foil effect for lettering and monograms, choose our silver or gold raised ink.
Thanking your friends and family well is not one of those things to skimp on. If you order a supply of beautiful stationery right now, you'll always have it on hand. Discover your new thank you notes today.