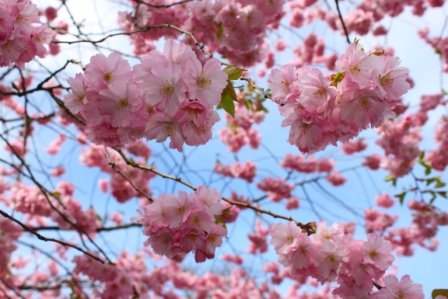 Spring is in the air…and if you have children, that means that Spring Break is approaching…which translates to lots of free time for them, no homework, and maybe a day off or two for you to release, unwind and enjoy a little time with family and friends. A spring break barbecue is the perfect thing.
Easy to Plan
It doesn't take a lot of planning: the guest list can be simple. Invite that new family down the street you've been wanting to meet, the friends who pitched in with the carpool, dinner duties or playdates the last couple of months, or the family who had you over last November with whom you've been wanting to reciprocate.
In terms of the menu, the barbecue can be as easy as you want it to be. You provide the main course — whether that's simple hot dogs, veggie burgers, catfish or something more elaborate, like grilled chicken or ribs. Invite your guests to bring their favorite side dish and beverage. Then fire up the grill in your yard or balcony, or try a nearby community green space, like a park.
Simple Barbecue-Themed Accessories
You won't need a lot of special decor. Your friendship and hospitality goes the distance here. But if you do want to mark the occasion, consider these personalized options:
Independence Foil-Pressed Guest Towels. Personalize these party papers with up to three lines of text printed in your choice of font, foil ink color and paper color. Motifs include grill, flag and striped star.
Oceanic Napkin — Embossed. More environmentally friendly because it has no ink, and so it's compostable, this napkin puts the wind in your sails. Personalize with up to three lines in the lettering style of your choice. Motifs include: crab, sand dollar, shell, sea star, palm trees, captain's wheel, anchor and beach chair. Choice of paper color. Embossed.
Comida Cutting Board. Pork, beef, fish or chicken…what's your fancy? Our Comida Cutting Board features a whimsical parade of farm animals along with your oversized initial. Choose horizontal or vertical orientation. Made from eco-friendly bamboo. Hand washing recommended.
Altamira Monogram Mason Jars. Splurge on a set of these super cute personalized mason jars. They hit just the right note for a casual gathering like a spring break barbecue. Customize the 16 ounce mason jar with one of 10 exclusive monograms, including Anthony and Circle. Clear glass. Dishwasher safe.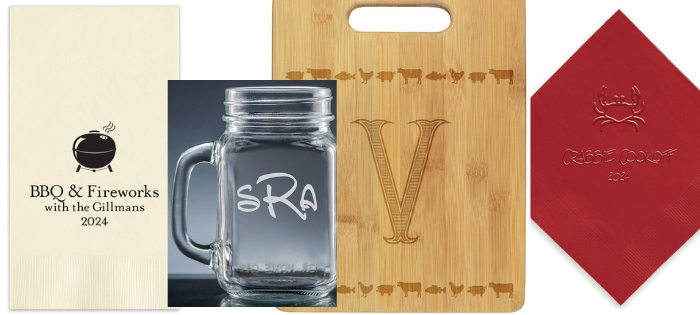 Coming together over food is the oldest, time-tested way of connecting with others. Nothing fancy is required. Just kindness and a simple meal.