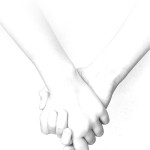 Preparing for a wedding is an exciting and busy time for engaged couples.  There are so many things to think about and organize.  The days fly by in a whirlwind of plans, appointments, and happy social events.
Whether there will be many casual get-togethers or one formal wedding shower, there are plenty of occasions for gift-giving and wishing the couple future happiness.  Showing off their new name as a married couple for the first time is always thrilling and Giftsin24 has a wide selection of personalized gift ideas, including notes, cards, tablets, notepads and napkins.
Here are our favorite gifts for engaged couples:
Couples 7 Tablet Set:  The perfect gift! Both their first names combined with their new family name, on seven tablets of various sizes.
Family Photo Memo Square:  They can show off their favorite photo as they jot down notes and reminders.
Traditional Monogram Note:  Classic and understated, the ideal notes for writing wedding thank yous.
Family Pride Note:  Their family name surrounded by first names.  This is especially thoughtful for families that are blending through marriage.
Personalized Napkins and Guest Towels:  Always in style and always impressive.  They'll enjoy using these at their first "official" get-together as Mr. and Mrs.