Today we have a little Typography 101 for you. Put simply, typography is the design and use of typefaces. We use typefaces to communicate visually. Typefaces are powerful. They can convey emotion. That's why you prefer some typefaces over others when you make stationery at our website.
Designers create typefaces by including many elements that make them unique and identifiable. They pay attention to things like how straight or round a g is at the bottom. Or how high or low a line crosses a t. In addition, the little feet that go at the ends of letters are called serifs. Many typefaces have no serifs at all.
The history of typography moves from old-style calligraphy to today's digital type. Believe it or not, the first handwritten letter forms still inspire today's typography.
Giftsin24 offers exclusive lettering styles from Embossed Graphics. EG's skilled designers use them to create some of the most elegant personalized stationery available today.
Anthony is our Most Popular Lettering Style
This is why we're proud to showcase our most popular lettering style . . . . Anthony. Anthony is a casual, yet graceful lettering style that feels like handwriting.
According to Ryan Monahan, Giftsin24's graphic designer, "Anthony is a typestyle created to capture the traditional flow and stroke of a true hand lettering. The combination of the cursive and roman aesthetic really lends itself to having the appropriate movement and rhythm that many look for when trying to represent a hand written look and feel."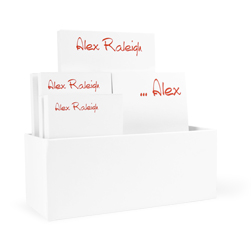 Because of its casual appeal, Anthony is a best-selling choice. We offer it in notes, cards, napkins, cutting boards, mason jars, ornaments and memos. Customer favorites include the Anthony 7 Tablet Set, the  Highland Memo Square and the Anthony Studio Card. These items are very popular gifts.
Embossed Graphics is the leading maker of social stationery in the country. Giftsin24 offers exceptional quality at affordable prices. Best of all, we offer super fast production and free FedEx ground shipping. In fact, most orders ship in 24 hours.