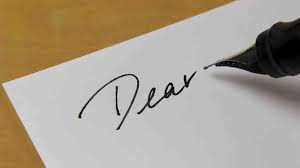 Throughout our lives people we love get hurt or sick. A handwritten note expressing our concern and wishes for recovery will mean so much to the recipient. It shows that we're thinking about them and we've taken the time to let them know. Writing a get well soon message is not complicated.
5 Tips
• Be positive and upbeat. This is not a formal letter, so express yourself naturally.
• If the letter is going to a friend or family member, you could bring up something that you both experienced or shared. This will make your message more personal.
• Let them know you miss them, and perhaps offer a specific example.
• A humorous anecdote or good news is always welcome and will lighten the mood.
• Reassure them of your support and assistance.
Dear Elizabeth,
I was so sorry to hear that you've been under the weather recently. I certainly hope that you'll be back up and feeling like yourself again soon. We really miss your sense of humor around here at the office — not to mention your homemade cookies.
I hope that you'll get plenty of rest and feel better soon. Please let me know if there's anything at all that I can do for you to make things easier. I'd be happy to go to the grocery store or run an errand for you. Don't hesitate to call me if there's something I can do for you. Wishing you a speedy recovery!
Sincerely,
Don't procrastinate — write your get well message in a timely manner. They'll appreciate your sincere and genuine interest in their well-being.
Writing a heartfelt get well message for someone, whether family, friend, colleague or co-worker, is a thoughtful and considerate gesture. They'll greatly appreciate and remember your thoughtfulness.