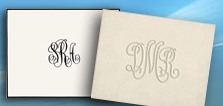 Happy Valentine's Day! Use personalized notes to tell people you love them all throughout the year, not just on Valentine's Day.
Remember the cute Valentines we swapped in grade school (hoping to get one from our secret crush!) and those little pastel-colored conversation hearts?  Or the first "real" Valentine's Day you shared with your new love?
Romance is wonderful at any age, but what about all the other special relationships in our lives?  We all have people that are dear to us.  There are our children, our parents and grandparents, friends, siblings and relatives. It's important to let them know that they're loved and appreciated as well, not just on Valentine's Day, but any day of the year.
Great reasons to send a personalized note or card
– Just because you thought of them today
– You haven't seen them since the holidays and you miss them
– A friend or neighbor is recovering from an illness or surgery and a written hello will lift their spirits
– Share good news – about your upcoming wedding, new job or a baby
– Say thanks for the get-together they hosted or the lunch date you shared
– Tell them how much a small act or word of kindness from them meant to you
– Brighten the day of someone in the military – they're far from home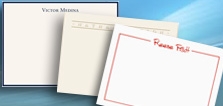 There are so many ways to stay in touch, to say thanks or you're welcome, to acknowledge an achievement, share a milestone, offer congratulations and best wishes.  Take a few minutes out of your day to write a personalized note.  It may mean the world to the recipient. You never know – it may arrive right at the moment they need it most.  So if you're thinking of someone, let them know.  Express your love and appreciation to those in your life any day of the year.