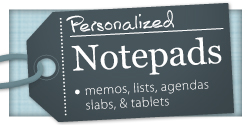 Giftsin24.com has the largest selection of Personalized Notepads for your family, home and office. Fun and colorful for kids. Great custom Gifts for Teachers that can be enjoyed all year long. These make it easy to leave messages, to do lists and reminders for the entire family. Each notepad, list, tablet or slab is created with the latest in printing technology, so Giftsin24 can produce and ship within 24 hours after you have personalized your order.
---
Choose Your Personalized Notepads
We work hard to provide you with the highest quality items at a reasonable price to fit your needs. Customize your favorite items fast and easy. Our assortment of personalized notepads includes the following bestsellers: Designer Notepads, Memo Notepads, Family Notepads, Notepad Gift Sets, Magnetic Refrigerator Notepads, Colorful Notepads, Agenda Sets, Best Selling Notepads and Custom Notepads.
The Functionality of Personalized Notepads and Stationery Gifts
Do you need a personal assistant? Then order a personalized notepad from Giftsin24. Don't let your busy schedule dictate your life or your relationships. We offer an assortment of personalized notepads designed to help you keep organized. Don't stress out. Your priorities are important. Jot it down in your notepad. To do lists, brief messages, phone numbers, and last minute reminders will seem effortless to remember. Over 123 items for you to choose from and in any color, size and theme that you can imagine. Personalize any notepad with your name, initials, or favorite phrase in a number of font styles. Visit our online gallery today.