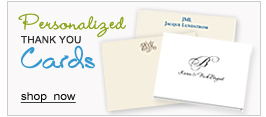 On Sale - Personalized Holiday Napkins
Do you need napkins fast for your next holiday party? Our napkins can be embossed or foil stamped with your festive message. Start a new tradition with Giftsin24.com and choose from the largest selection of personalized snack and beverage napkins at the lowest prices possible. Your product is professionally packaged and shipped to you in 24 hours. Our customers deserve the best products. Visit our online gallery and view our collection of holiday napkins.
Our collection includes the following napkins: Personalize Holiday Snack, Appetizer and Beverage Napkins for all your favorite holidays: Christmas, Thanksgiving, Celebration, Hanukkah, Easter, Patriotic and Halloween Napkins.
Shop All Holiday Napkins Today!
Choose Your Personalized Napkins and Guest Towels Today
We have festive napkins for every holiday marked on your calendar. Choose a gift that's useful all year round. Visit our online gallery today. Find the appropriate personalized napkin for your next holiday celebration or office party. Invite us to your next event. We'll bring the napkins!