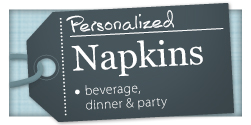 Personalize your next event with one of our beautifully embossed napkins. Choose a brightly colored or foil-stamped napkin made delicately to make each moment a joyous one. Make a grand entrance. Introduce any occasion by customizing your message on a decorative 3 ply piece of paper. Announce a special day and commemorate a graduation, a birthday or a new addition to your family with a personalized napkin set. This is the final detail to a great celebration. Choose from 46 available styles that will impress your guests without going over budget.
---
Choose Your Personalized Napkins and Guest Towels
Do you need napkins and need them fast? Giftsin24 will ship your order in 24 hours. We have a large selection of low priced personalized napkins designed for your holiday celebrations, parties and events. Update old traditions and create new ones. Compliment your snacks and beverages with this needed detail. Set the mood this year with a personalized napkin, embossed, foil stamped or monogrammed, just for you. Giftsin24 also carries a wide assortment of wedding, anniversary and baby shower napkins. Order our brand new Color Mist Napkins available in a pearl or tint finish.
Embossed Napkins and Guest Towels for any Occasion
Order our napkins for weddings, anniversaries, christenings, retirements, housewarming's, birthdays, and bar mitzvahs. Give Halloween, Thanksgiving, Christmas, New Year's, Hanukkah, and Easter a much needed detail by ordering napkins from Giftsin24. Try our foil stamped napkins today and choose from 14 shimmering colors. Don't worry! We have all of your favorite colors available and any combination is left up to you. And don't forget our guest towels and monograms, two classic choices to announce engagements or the arrival of a new born.