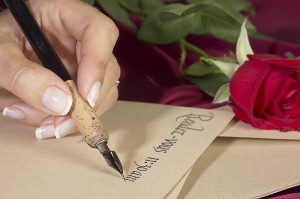 Has someone shown you an unexpected kindness that you truly appreciate because it brightened your day and made your routine seem a bit more manageable? Or, has someone bought you a very expensive or thoughtful present in honor of a special occasion? In either case, you should send out personalized thank you cards to let these people know how much you appreciate their gestures. Mailing thank you cards as opposed to making a phone call or writing a fast e-mail is a much better way to tell them that you care.
People love getting mail from friends and family members; therefore, they'll feel special when they see an envelope that contains a letter from you nestled in their stack of mail. They'll be eager to open it to see what kind of card you picked out, and they will probably keep it for a long time. They might put it at their desk at work, or put it up on their refrigerator at home.
Another reason that you should send out some letters to show your appreciation is that the people will know that their gift meant something to you, and that you didn't merely think of it as something that was a necessity at a big event. This is especially the case if you have a lavish wedding reception or large birthday party that includes lots of guests and presents. Let each individual guest know that you are truly thankful.
You also should sometimes send out thank you notes in the workplace. They are appropriate to send after an interview if someone spent a substantial amount of time with you. Or, if a colleague does you a kind deed and works particularly hard on a certain project for your company, you might want to show them your appreciation by leaving a nice handwritten note on their desk.
Make sure that you always have the proper personalized paper on hand if you think you might need to send some custom printed thank you note cards in the near future. This will make it much easier for you to correspond with people since you won't have to rush out to the store just to pick up some note cards. You also can be sure that your personalized stationery is tasteful and beautiful if you've chosen it well in advance.