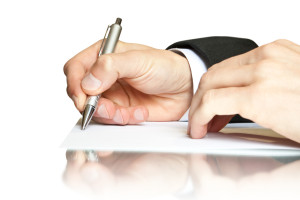 Personalized paper is great at the office. You'll find dozens of different uses for your stationery. No matter what your position may be, you will find useful applications for your personalized cards and a selection of custom correspondence that you'll have ready to use, on your desk, whenever you need it.
Do you need to send a quick note to a coworker? By using your own personalized stationery, not only will your note stand out amidst a pile of papers on their desk, but it will also look more professional. Mundane or important, it's a guarantee that your note will be read.
Having your own personalized cards on hand also makes it easy to jot down and remember important information for yourself. If your desk is piled high with a mass of papers your stationery will stand out, always garnering your attention and directing you towards whatever it is that you wrote.
And for office workers there are a number of different options available to you when selecting the appropriate stationery for your desk top. You can choose to purchase personalized notepads for all of your little reminders. These are great sheets that will work well to serve as reminders for you and your coworkers.
There are also personalized cards that you can choose to have monogrammed. These cards are great to use as thank you's when a coworker does you a favor or excels in a task that you requested of them. You can simply jot down a little note on the card, place it in an envelope and then leave it on their desk. These cards with envelopes are perfect for any type of correspondence that you prefer to be confidential.
While personalized stationery is always great to have on hand in the home it can also be extremely useful in the workplace. Select the type of personalized paper that you will use the most, or purchase them all so that you will always have the perfect paper on hand to fulfill your needs.