We have covered the differences between serif and sans serif fonts in part one.  This post will cover Italic and script fonts.  I know you are all riveted with intrigue and emotion.  Please, try to remain in your seats and stay focused like a true typography connoisseur.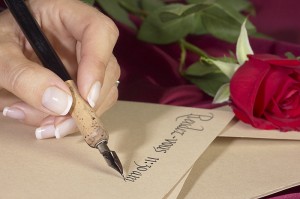 Italic type is considered a cursive font inspired by calligraphy handwriting.  What does an italic letter look like? Well, if a letter is slanted to the right.  It might just be an italicized letter.  We should all be able to spot an italicized word if we see one.  Our beloved word processing software should have the feature.  In the print world Italicizing a word or group of words is just like underlining.
Script type is similar to cursive handwriting.  There are two types of script typefaces.  The first is formal, a script defined by fine and thick strokes often distinguished by a uniform look and created by a quill or nib.  The second, you guessed it, is informal or casual.  This script has a free flowing look, created by a brush dipped in ink.
All this information is great, but now what? Finding the right font is like riding a bike for the first time.  Each fall is another reason to pick ourselves up again and continue on with the lesson.  I'll let you in on a little secret: a lot of what graphic designers and those sycophants who work in print do is based on trial and error.  They experiment and explore new and exciting ways to make words readable and sometimes they do it by accident.  Newspapers prefer a version of Times New Roman.  Magazines, on the other hand, are a bit more lenient.  They will go with any lettering style that's flashy and stylized.
Choosing the right font for your personalized stationery should be easy and most importantly fun.  Remember there are no rules, but if you really want to work like the professionals then close your eyes and play a game of eeny, meeny, miny, moe and then decide.  You might just get lucky.