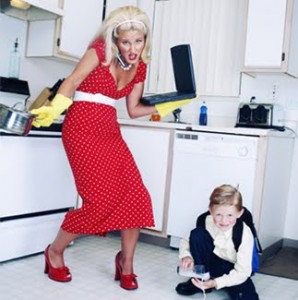 If you're a busy mom trying to run a household, you're always running around to find a piece of paper to jot something down and shove into your purse on the go. Whether it's a note to the teacher, a reminder note to yourself or a silly grocery list, taking a few seconds to write it all down could mean the difference between complete peace or total anarchy. When running around all day with a million things on your mind, the last thing you want is to have to actually remember those one million things. So the obvious choice is to write it down. Wow, so simple, right?
Ha! Easier said than done. Now you have to scramble for a proper piece of paper. As you dig through your purse, you find a receipt – not big enough. You then find a grocery list from 3 weeks ago, which is ripped and soiled. UGH! The final straw comes when you're digging through the junk drawer in your kitchen. You know, the drawer where every random item laying around the house is tossed to die a slow death.
Why is it when you need a piece a paper, you can never find a piece of paper?! GRRRR!
The best option for you is to order a personalized stationery set. And not just one pad, a whole 7 tablet set, personalized with your own family name. Each tablet set comes with its own holder, so now not only do you know exactly where to find it, you can throw the multiple tablets everywhere if you want to! In the kitchen, in the living room, on your nightstand, in the car, in your purse, in the diaper bag; wherever you need paper, there it shall be.
And here's the best thing – no matter what you write, there will never again be a question about who the note is from. Whether it's a note to your kid's teacher, a 'honey-do' for hubby on the weekend, or just a silly old shopping list, your name will be front and center.