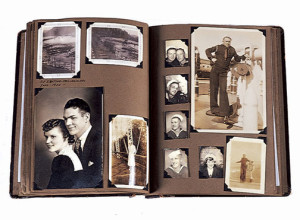 It is amazing to see how people's lives have been recorded through the past generations.  When cameras had been more accessible to the general public, it was common to see photo albums with baby pictures and vacations.  As the years came and went, the age good color photos had been the trend of the times.  People started multiple albums, with themes of childhood, graduations, weddings and family gatherings.  They became so cherished that if there was ever an unfortunate incident like a house fire, the albums were the first to be grabbed.  As they said, you can always replace cloths and material possessions, but you cannot replace photos.
Then came the digital age.  This became more convenient for families and loved ones.  With a single photo, you could email multiple copies of your cherished memories to family and friend.  No longer did you have to wait for people to travel to your home, so you can show off your photos.  It was instantaneous.  Even now, with social media as it is, you will not have to worry about your favorite pics getting lost in the attic.  It is all there online.
But why stop there?  Why can't we take the digital age and bring some of your photos back to print.  With the Family Photo Collection, the options are limitless with personalizing your favorite notepad, slab or list with photos of your favorite memories.  Make one for Father's Day for dad of when you went out fishing with him as a kid, or of your wedding day for your wife's anniversary present.  You can even just make one for your office including your kids or your favorite pet.  And with several personalization options of color and typeface, your notepad will fit perfectly for any occasion.
In a hurry, not to worry.  Giftsin24 can produce and ship your family photo list within 24 hours after you have placed an order.