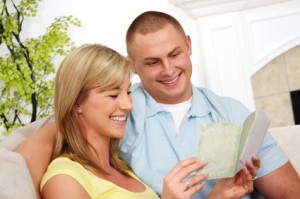 Buying an appropriate gift for a couple is sometimes a rather intimidating task.  You definitely will want to get them both something that they will enjoy, but you also don't want to end up buying them something generic such as a gift card to their favorite restaurant or bookstore.  So, you'll have to do some serious thinking about what might be the best gift for them.  As you're thinking about all the different possibilities, you should keep in mind that personalized gift sets are often a very fitting gift for a couple.
First of all, if you get the cards personalized with both of their names, they will immediately know that the gift is meant for both of them.  You should never buy a couple a present that is really meant for one person or the other.  Make sure that you pick a nice font for their names that complements their personal style, and also choose a color that you think each of them will be pleased to use.
Secondly, it's always a good idea to buy a couple some personalized cards since they're such a practical gift.  When you give someone these cards, they'll immediately start thinking about some different ways that they can use them.  Maybe they would like to use them as thank you notes for all the other presents that they've received in honor of whatever you happen to be celebrating at this time.
You also should keep in mind that the cards can certainly reflect the personality of the couple you have in mind.  What kinds of hobbies or activities do they enjoy?  Maybe they like to spend lots of time outside.  If this is the case, then you could purchase some cards that have bright colors and exciting typefaces to match the personality of those with lots of energy.
When you're buying these personalized cards for a couple, you can rest assured that the gifts will ship within 24 hours after you have ordered the personalized gift set.  Giftsin24 is proud of its name in personalizing, and shipping stationery sets within 24 hours.  No other company can do that within the industry.