Personalized college graduation gifts or unique high school graduation gift ideas embrace your graduate's individuality!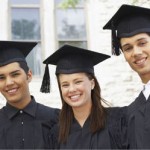 It can be a wonderful way to send your graduate off to the world with a personal gift that helps them remember that they are different and special.  Envisaging a unique graduation gift idea for your college or high school grad doesn't have to be a daunting task. Try thinking about what makes your graduate so special…
What gift do you give to a college graduate who has come so far and is finally moving on to the next stage of his or her life…only to be starting at square one again?   For a college graduate in particular, the idea of being a little fish in a big sea can be scary.  Especially when combined with the pressure of having to stand out and be different than everyone else.  Perhaps this quote can provide some relief for graduates…
"A graduation ceremony is an event where the commencement speaker tells thousands of students dressed in identical caps and gowns that "individuality" is the key to success." ~Robert Orben
The irony lies in the fact that the college and high school graduates have a world of possibility in front of them and the challenge is to find their own personal niche.   To help them along their way, why not consider personalizing their high school or college graduation gift?
Unique college and high school graduate gift ideas with a useful purpose
Graduation gifts should be personal and serve a useful purpose. Personalized stationery supports both these goals.  Here are some ideas for gifts for the graduate:
You can try searching here for more ideas for gifts for the graduate.
Personalize your Graduation Gift with your own special message
Adding a quote or slogan to your graduation gift idea is an excellent way to convey an inspirational message or just a funny recollection.
Recently, a college graduate reminisced of how her father would always tell her, "Find a job you love and you'll never have to work a day in your life." Even when times were tough, she remembered her father's words.  And now she makes sure to add this quote to her personal signature in all her memos to inspire others.
Fun personalization ideas for your gift
Consider personalizing your graduation gift with these quote ideas:
"If you can imagine it, you can achieve it; if you can dream it, you can become it."
"Do not go where the path may lead, go instead where there is no path and leave a trail."
"Get a Job!"
"No more freeloading!"
"Shoot for the moon, even if you miss you'll land among the stars."
"It takes courage to grow up and become who you really are."
Personalizing your graduation gift with a quote will help your high school or college grad on their way to finding their individuality and realizing their personal success, while reminding them that you are always close.  Your personalized graduation gift provides an encouraging reminder of just how proud you are of your special graduate. Find more ideas for graduation quotes to use on your personalized gift on Thinkexist.com.
Make your gift standout with customized College and High School Graduate Gifts
Whether it's a personal or comical message, your graduate will cherish your personalized gift idea for a long time.  It's important that every graduate knows that there will be challenges in life after graduation, but like your unique college/high school graduation gift idea, they should remember that they are exceptional!