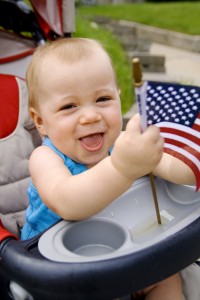 I was just going through my day-timer and was overwhelmed with all the activities I have scheduled between now and the end of summer. My social calendar is exploding! I honestly don't have single week when something isn't going on. Not that I'm complaining – I love this time of year because I get to see my family and friends more now than the dreary winter season, so it's a good thing!
First is Memorial Day, which I am once again graciously hosting. Personally, this is my favorite party of the season because the weather is finally nice enough to enjoy relaxing on my deck, admiring the flowers and trees as they begin to bloom and enjoying the longer, sun soaked days. I've already sent out my customized holiday invites and am expecting a huge turn out. My friends and family will once again invade my house to throw down some freshly grilled burgers and hot dogs, partake in some ice-cold beer and share a few laughs. I'll be putting up the badminton net and crocket set to really get the party started!
Next comes not one, but two of my sister's graduations, I received those invites in the mail a while ago. These monogrammed invites were so beautiful and so….mature. It quickly made me realize that my baby sisters are no longer babies. Wow, when did that happen?!
Then 2 events occur back-to-back; my parents wedding anniversary followed by Father's Day. For their anniversary, my husband and I are taking them out for the best steak dinner. Ever! And I've already decided to give my father a gift of personalized stationery that, as a man of many words, I know he will appreciate for a long time to come.
Shortly after that is the 4th of July – the King of all parties! Once again, the whole family seems to convene at a family member's house, preferably on a lake with a boat, and enjoy an amazing day of food, fireworks and frolicking! I've already helped my cousin Susan design these cute patriotic napkins to accent her table and serve as a functional keepsake as well.
Of course my list of events goes on and on, but I'm already exhausted from reviewing all of the above. How about you, receive any great invites in your mail recently? 'Tis the season!