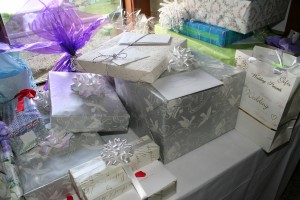 Wedding showers can be a lot of fun. The excitement of the Bride to be, everyone gathering together to celebrate. Punch, appetizers, presents and cake. Sounds like a good Sunday to me.
There are so many different kinds of wedding showers. I've been to them at country clubs, banquet halls, family homes and recently a college. One thing they all have in common is beautifully wrapped gifts in glitter and bows. By far the best part of the shower is watching the Bride as she unwraps her new gifts. Sometimes the groom attends, sometimes he stays home. Either way everyone always seems to have a nice time.
Shower favors are a traditional way to say thank you to all the guests. At his last wedding shower there were small personalized notepads at each seat, used as name cards, each notepad was personalized for every woman who attended. It was by far the best shower favor I have ever received.
After three hours of friends, laughs, gifts and cake. The Bride graciously thanked everyone for their generosity. I had to make it a point to thank her for the notepad. I wish I would have thought of this last year when I got married. But, I will be sure to pass on the idea.
I know she is headed home to put all the new gifts away and get started on all her thank you cards.