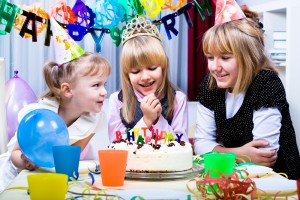 Kid's parties can be a lot of fun to plan. Kids are usually not too picky; they just like a lot of fun colors and creative party decor. The best think about party planning for kids is that you can often make or personalize a lot of the decorations and they really enjoy it.
Balloons, streamers, party napkins and birthday cake are a few of the bare essentials. The great thing is you can match everything very easily.
Here are a few steps to plan a kid's birthday party:
1. Start by deciding if your kid's party will be indoors or outdoors
2. How many guests will you have?
3. Will you have two birthday parties, one for the family and a second party for the kids or combine the two parties?
4. Talk with your child and see if there is a theme they would like to go with or a color scheme. Bright colorful colors and party decor are great for kid's parties
5. Decide if you want to order a cake or make one yourself
6. Start looking online for you party decor. Think about birthday party napkins, balloons, streamers and other homemade touches you can add to your party
7. Remember to have kid's games or activates. Kids love playing games, plus this will keep them busy and keep your party in order
Now that you have a few guidelines to get your kids birthday party started.
You can start personalizing your kids drink and cake napkins. Choose from a large selection of colorful paper napkins and select one of our kid's napkin motifs or create and upload your own. Giftsin24.com can custom design your kids napkins, exactly how you like them.