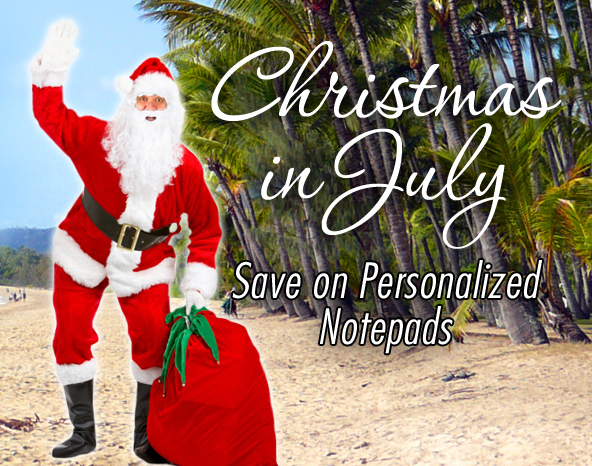 It's Finally here, the Sale you have been waiting for, The Christmas in July Sale. Save on select personalized notepads this July.
The sun is hot, the pools are open and the air conditioning is on. Regardless, this time every year  I seem to find great sales and deals on gifts.
I know, it sounds crazy, but I have been known to start my Christmas Shopping in July! I don't usually tell people about this little habbit of mine, but, I figure with all the great low prices I mine as well stock up on the gifts that I will be buying in a few months anyway.
July is a great month for online and in store sales. Save money by shopping early. Giftsin24.com has most Personalized Notepads on sale now. Custom printed Notepads, personalized monogrammed notepads and fun, modern and colorful personalized stationery. I can get stocking suffers for the kids, personalized family gifts and great custom gifts for the grandparents. I have even been know to buy teachers gifts early. Purchase your birthday gifts, anniversary gifts and party favors. There has never been a better time to save on your paper notepads,  list notepads, memos, tablets, super slabs and Eco friendly notepads.
Take advantage of the cheap prices on personalized notepads now, you will save money, beat the holiday rush and have more time to spend with your family when the holiday season rolls around. Choose from our large selection of high quality designer stationery and thick custom printed notepads. You will be impress by how quickly you receive your order.
Shop Custom Personalized Sale Notepads