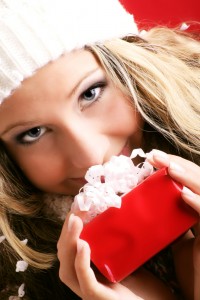 Now that the turkey and pumpkin pie are a just memory, it's time to start thinking about sending out holiday greetings.  This is the time of year that many of us like to get friends and family caught up on what's been going on in our lives.  There's no better way to do that than with personalized cards.  I like to personalize mine with a sentiment such as "From Our Home to Yours," or "Happy Holidays!" Then I write a brief update on what's new in my life.  I like sending my holiday wishes on my own personalized cards.  It's more personal than a standard greeting card, and I can customize them with my choice of paper color, ink color, and lettering style.
Personalized stationery
is the perfect way to say Merry Christmas, Happy Holidays or simply hello to family and friends during this festive season.  It also makes the ideal gift for everyone on your list.  Personalized with their name, a gift of stationery makes a thoughtful and loving present for all the special people you remember at this time of year.
Don't forget to order your thank you cards now as well.  You'll want to write a note expressing your appreciation after the holidays, and having cards or notes personalized with your name will make the task fun and easy.  Your recipients will appreciate your thoughtfulness and it's a great way to thank everyone for making the holidays so special.