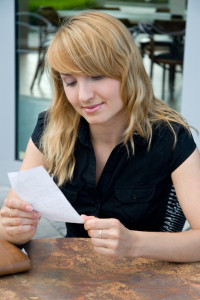 If someone has done something nice for you, then you need to show the individual your appreciation in a timely manner.  This is proper etiquette, and you need to display that you know the right code of conduct to follow in this particular situation.  it will be much easier for you to send out a thoughtful thank you note if you have some excellent personalized paper on hand.  You won't have to spend an exorbitant amount of time driving around town just in order to find some stationery that might possibly be appropriate for this particular occasion.
Some people might actually think it's rather rude if you happen to just send them e-mail in order to convey your gratitude.  Don't make this mistake if at all possible.  It could even cost you a professional relationship if someone is seriously offended by the fact that you did not remember to actually take the time to sit down and write the person a nice note after they did you a particular kindness that happened to make your day.
It's even more important to have some personalized paper for thank you notes on hand if you know that you are going to be using this stationery in the corporate world.  Never make the mistake of forgetting to send a thank you note after someone has taken time out of the schedule in order to grant you an important interview. This slight on your part could actually cost you the job of your dreams.
Furthermore, when you are using your custom printed stationery to write out a thoughtful thank you note, this entire process doesn't have to be something that disrupts your personal schedule all that much.  You just have to write a few sentences that convey your sentiments in a thoughtful manner.  There is no need to write paragraph after paragraph to someone just because they happened to do something nice for you that you really appreciate.
Make sure that you buy some personalized thank you notes that you'll be proud to use in a variety of circumstances.  This means that you should probably make a concerted effort to find some stationery that has a rather subtle and toned down appearance.  If you buy something that is relatively garish, then it might not be appropriate to use in a corporate setting.  if you opt for a more conservative style of stationery, then you can get much more out of this important investment.