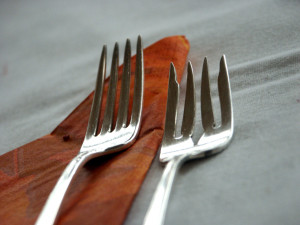 If you are hosting a party in the near future why not spice things up with some personalized napkins? These napkins can be great conversation pieces at your next cocktail party by allowing you a level of personalization that you can get creative with. Guests will admire these personalized party napkins and marvel over anything you decide to have printed on them.
Personalized party napkins have been popular staples at weddings, anniversaries, graduations, and showers.
You can think up a theme for your next party and give it a special name. Be creative and have fun with it. If you are hosting a bbq, come up with something like "Bill and Jill's Backyard BBQ" or if you are having your girlfriends over for some drinks and appetizers you can simply have "Ladies Night 2013" printed onto the napkins. Use your own creativity to come up with something that will help make the night a memorable one.
And don't forget to color coordinate. You'll be able to pick out the color of the napkin and the color of the print. Make sure that you select colors that coordinate well with any party decorations that you are planning on having or the colors of your home if you aren't decorating.
If you only plan on getting one or two decorations for your party, make sure that personalized napkins are one of them. For something so small they can make quite a statement because you took the time to have them personalized. Your guests will appreciate the gesture and be sure to notice the napkins right away.
Giftsin24 can produce and ship your personalized napkins within 24 hours after you have placed your order.  So if you are in need of some last minute plans, Giftsin24 can be the best choice you will make for your party.