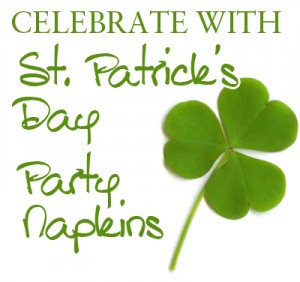 No Matter what your budget is you can afford cheap personalized designer napkins for your next party!
Its true custom party napkins are more affordable than ever! When paper napkins were first available they were hard to find. Now Giftsin24.com offers the largest selection of party napkins and decor that will impress your guests.
Weather its a birthday party, dinner party or holiday dinner personalized paper napkins will impress your guests. Since all of our fun colorful printed and embossed napkins are customized just for you, your party will be unique and stand out from the rest with all our great typeface options and great motifs.
Create your own drink, appetizer and dessert napkins. Party decor has never been so custom and so easy to create. Match our napkins to your party theme. Think ahead and order you St. Patrick's Day Beverage Napkins.  A fun, modern or traditional way to dress up any party with our napkin decor.
St. Patrick's Day Napkins, party and bar decorations are available to be custom ordered in a wide variety of colors with you custom personalization. So stock up for every holiday and start a new party tradition.
Personalized napkins also are great for corporate parties and events. Giftsin24.com can put your company logo on your custom printed and embossed napkins. Design your custom napkins for your upcoming St. Patrick's Day party, office luncheon or business meeting.
Serve everyting from wine beer and mixed drinks to your bagels and donuts, sandwiches, desserts and cakes on our beautiful stylish napkins.