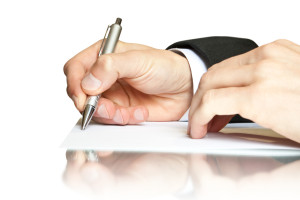 In this difficult economic climate, anything you can do to stand out is helpful when applying for jobs. Using personalized stationery for thank you notes, follow-up correspondence and general uses is a great way to make your mark on an employer's memory. Your stately personalized paper in a pile of business correspondence will surely stand out.
Finding a great custom printed stationery can let you send hand written notes and personalized thank you cards, but can also be used in your printer to send invoices, cover letters and even resumes. If your paper is not a standard size, you might have to adjust your printer's settings in order to properly print your items. This is a great way to coordinate your resume and cover letter – often, the letter and resume can look like completely different items from separate people. Using the same paper can make sure that your cover letter and CV stay together.
Personalized paper can take on a professional feel. It's important to consider how a business will look at your stationery. You might enjoy flowers, pink flourishes, or hunting motifs, but these shouldn't be used for work correspondence. Adding your own touch is acceptable, but it should be subtle and adult. If you are in a creative field, you can stray from the beaten path and use bold colors and unique graphic treatments. If you are in a traditional business setting, stay with classic treatments. Use whites, creams and grays for your paper and ink colors and stay with traditional serif fonts.
Your personalized note cards can even go beyond just paper – getting envelopes printed with the same details as your paper is a great additional detail. It creates a correspondence package that stands out in a stack of letters. It's often possible to get business-sized envelopes to match, so you can send out your standard paper sizes in an envelope that matches. You can create a set of hand correspondence cards, with smaller envelopes to match, and larger paper and business envelopes for your resume and cover letter.
This sort of personalized correspondence is great if you are a freelancer. It can be used for additional items, like proposals, invoices and contracts. Using the personalized correspondence is a way to brand yourself as a freelancer, which is a great way to get repeat business.
To make a really solid business package, create a personalized calling card that matches the typeface and color of your personalized correspondence papers and envelopes. This can be given out at networking events, or can be tucked inside a resume or cover letter. It gives an added display of professionalism.