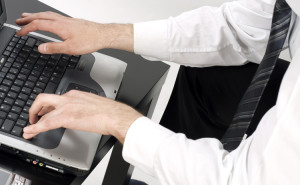 Most of today's information is given to you on a constant basis with social media, news feeds, text and email.  It is easy to be lost in instant data sent to you by family, friends and colleagues.  But there are alternatives that, in some cases; can be better than the common norm.  When you need to let your friends or loved ones know that you're thinking of them, there are a variety of ways for you to do so.
Usually, people use the Internet for most of their communication, but sending a hand written note on personalized paper is an excellent way for you to go above and beyond the protocol to make someone feel particularly special. It will inevitably brighten their day when they open up a card that you especially made for them.
If you opt to use personalized stationery instead of just regular stationery, the card itself will show that you've taken time to think about what you're sending. It will reflect your own personal sense of style and the person who receives it will think of you and the times you've shared when they look at it.
They're also more likely to treasure the note and keep it in a safe place or display it on their desk at work. The investment of time and money you put into creating your stationery will mean so much to those who get them.
Making these personalized cards is also a good investment since you can use them for so many different occasions. You can send them to people when they graduate college, to celebrate the fact that a couple has had a new baby, or to thank people for a gift or kind gesture.
Regardless of the event, if you sit down and write a few sentences to tell someone your thoughts, the extra effort will be greatly appreciated.
Writing on personalized paper can also be a good way to motivate yourself to write in the first place. After you've dedicated effort towards making the card just how you want it, you'll be excited to share the design with your friends.
You'll want them to see the creativity involved in the process, and it also will be a good reflection of your personality. If, for example, you have put your initials on the bottom of a card, it will be impressive to business clients when they receive it after an important company event.
Or send out cards with your old college nickname at the bottom to friends after a reunion and thank them for coming out to your dinner party.