Last week, I watched a very touching video on YouTube that had gone viral. It was about a soldier and his fiancée. Shortly after he left to go overseas, she received a letter in the mail, telling her that he hid a small black box in one of their closets, and that she needed to find it. Eventually she discovered the box, and when she opened it, inside were 365 envelopes, each dated for every day her love would be gone.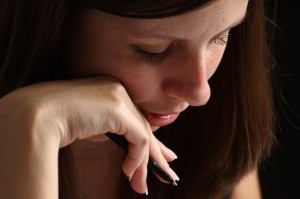 Are you crying yet?
Inside each of those envelopes were custom printed note cards, in which the solider had written a small expressions of love for his fiancée; memories of their first date, the color of her hair in the sunlight, his anticipation of their wedding day, how the vision of her face will keep him strong while he's away – really powerful words.
Now you're crying, just like I did.
So that got me thinking; why can't I do something like that? Sure, not on quite the grand scale as that soldier, but meaningful nonetheless. For example, my daughter is away this week on vacation. I decided to pull out my personalized note cards and write 5 notes for each day she'd be gone, sneaking them into her suitcase.
Day 1 ~ Have a wonderful time. I love you, Mom.
Day 2 ~ Thinking of you, hope you're having a great adventure. Love, Mom.
Day 3 ~ I miss you, but wishing you the best. Love, Mom.
Day 4 ~ The house is too quiet, I'm missing you terribly. Come home soon.
Day 5~ Safe travels home, can't wait to see you tomorrow! Love, Mom.
My daughter got home and told me that I was goofy, but she appreciated the surprise in her suitcase, the note cards put a smile on her face every day. Mission accomplished!
Now I'm thinking of doing the same thing when she starts school in a couple weeks.  I know she gets nervous the first few weeks, so I think slipping in a little 'I love you' note of encouragement into her lunch bag every day will help ease the transition.
How would you use your customized cards to make a difference in someone else's life?