McGrath's tavern opened on February 22nd 2009, on the eve of my best friend, Mark's 21st birthday. Since a lot of us were already 21 we joined him for a round (or 2 or 3….) of drinks in the cozy downstairs bar. Mark's cheeks turned rosy within the hour and we stayed up most of the night sharing memories, making new ones and laughing. His dad stood behind the bar mixing our poisons- wait, what you say? Mark's dad was the bartender? Yes, indeed he was, but that's because he's also the owner and builder of the bar. It had been finished just in time for Mark's birthday and proved to be an awesome birthday present from his parents.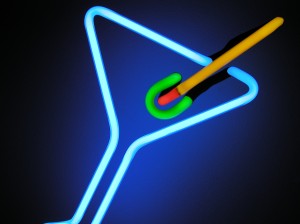 Alright, so it might not have been the best idea for my friend Mark's parents to give him a bar for his 21st birthday. A fully stocked bar-with no eye-popping, credit card-maxing bill at the end of the night. Even though it probably wasn't the best idea, it still happened. Mark's parents opened their basement bar on the eve of Mark's 21st and if they would have charged for drinks they would have made back all the money it took to build it within the first weekend. That was a few years ago and thankfully, Mark survived the countless nights of living up the gift he got.
Now the bar has become his pride and joy-his baby, if you will. He won't allow anyone else behind the counter and insists on making everyone's drinks, no matter how many people are there. He dutifully scrubs the granite counter top, and hands each drink to a guest like he's working for tips. The bar mirrors, and neon signs have added to the tavern ambiance Mark has tried to create, but it still feels like a basement bar rather than a cool tavern. It has all the regular ingredients a good bar should have, but it's missing the one thing that could put it over the edge and into feeling like a real tavern.
Luckily, with personalized foil stamped napkins at Giftsin24m Mark can have the perfect variety of personalized napkins fit for what he wants. A true bar, with a pride in what it has to offer, it should be personalized. It should have a signature. With the foil stamped napkins Mark is getting, he's also getting a signature. A little piece of something that transforms it from a bar in the basement to (almost) a tavern.