A recent survey of marketing executives revealed that most business leads come from referrals and personal connections, with email and a website being effective, and in spite of the declining mail volume these days, direct mail marketing was still viewed as an effective lead generator.
Of course, as a direct response marketer and copywriter, I was pleased to see that news. I know how difficult it is to generate profitable results with sales letters, postcards and such so I thought I'd share a "lost marketing secret" that you can apply to your direct marketing efforts today. That secret weapon is the use of handwritten notes in your marketing communication.
One of the best ways to get your direct mail opened, read and acted upon is to use genuinely produced handwritten addressing. Results don't lie. I have been proving it for almost 18 years now in hundreds of direct marketing campaigns from clients and for myself. Going beyond this, a handwritten sticky note on a letter or a handwritten note card can have dramatic impact on the marketing and sales results that you seek. How do you react when a handwritten addressed envelope comes in? You place it at the top of the pile or you open it immediately.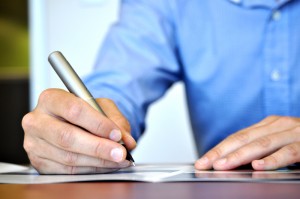 Yes, there are automated services that use computer-generated fonts to give the illusion that you took the time to write a real note. Hogwash for the most part, if truly memorable, personalized communication is the goal and you are trying to influence your prospect with a warm message. Computer-generated handwritten fonts do have their place in direct marketing and I have used these services in past campaigns, but it is all dependent on the campaign objectives. Actual handwritten notes will always be more effective.
Here are some of the benefits of using handwritten notes in your marketing.
Powerful follow-up: A handwritten note is the best way to follow-up on an initial lead, and it's a powerful tool in your lead nurturing process. Whether that note is on a Post-It Note, written on a sales letter or a personal note on a thank-you card, it will deliver impact. Consider a handwritten "P.S." at the bottom of a letter, or a handwritten note with an article of interest forwarded to a prospect.
Great relationship builder: It conveys a message to your client or prospect that you care enough about them to take the time and recognize them as an individual who is important to the sender. A handwritten note tells the recipient that they were on your mind and that you value the relationship.
Show your gratitude: Pay attention to this one. One of the easiest ways to let your customers know how much you care, and value their business is to send a handwritten thank-you note on your custom-designed stationery. Case in point: We have mailed out more than 300,000 genuine handwritten thank-you notes to loyal cable customers for a client who needed to fend off a competitor's new fiber optic alternative. You can say thank you to your customers either annually, or triggered by a purchase.
A lost customer rejuvenator: A handwritten note campaign to inactive or lost customers can create a stampede of business for a cash flow infusion and restart revenue streams that were once lucrative.
A true differentiator: A handwritten note positions you above the others trying to do business with your prospect.
If you are a consultant, salesperson or a solopreneur, consider having a custom-designed card on hand, as well as a roll of stamps and drop a handwritten note in the mail immediately after meeting your prospect or customer. Be prepared, make it a habitual part of your sales routine and stick with it. Make it part of your stay in touch system. You will be amazed at the response. It is a great way to close deals and generate referrals. People will be impressed. If you are a business owner, handwritten notes will be among your smartest marketing investments.
Don't overlook this marketing secret weapon. I've used it to sell cars for dealerships, sell consulting services for myself and others, sell enterprise software, caskets, industrial components, food products and more. Now it's your turn to start writing.
Of course, the words themselves matter greatly. If you would like a copy of our report "Seven Ways To Achieve Great Marketing Power With a Pen" send an email with "Seven Ways" in the subject line. Include your address and this report will arrive by U.S. Mail.
Thanks for reading. Now go write a note to a customer.
Bob Martel is a Marlborough-based marketing consultant, direct marketing copywriter and author of the book "How to Create All of the Business You Can Handle." He can be reached at 508-481-8383 or by e-mail at bobmartel@jmbmarketing.com.