– It's much easier than you think.
There are endless amounts of websites and books about how to write and write well.  Let me save you the trouble, the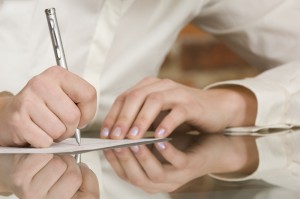 hard drive space and the headaches, it's all the same rubbish.  Writing is a craft.  It can be learned.  The more you do it, the more you will improve.  It is that simple.  The secret is and listen close.  It doesn't matter if your literary masterpiece is written on a napkin or a piece of scrap paper, if it's good, then it will be read and enjoyed.  Eventually, the Gods will shine upon your talent and you, my friend, will be considered among the greats.
Many writers dream of hitting it big.  They imagine winning the Pulitzer or being adored by crazy fans dressed as vampires, werewolves or wizards.  That fame and fortune is all in their heads along with the unfinished manuscript that sitting on their desk collecting dust.  You must crawl before you can walk.  Remember that saying? Well, here is my assignment for you.  Give someone a personalized correspondence card.  Yes, it's that simple.  Do you have the chops to complete it? We'll see.
Writing a custom printed Card is a lost art form.  For the writer, it's great practice.  Today, we send email messages.  Tomorrow, who knows, we may resort to sending a robotic clone of ourselves.  Hey, it could happen.  Nevertheless, only a few of us have given hand writing a piece of correspondence a fair chance.  Those of us who are in the personalized stationery business breathe and sleep this stuff.  We give personalized note cards out like if they were Werther's Candies.  (Werthers, I'll be expecting my lifetime supply of caramels for that shameless plug…Hmmm, Wherther's candies, they're the original!)
There is really only one rule for writing a custom correspondence card.  It doesn't exist in the pages of a website or book.  We learn this rule at a very young age.  If you have ever given a valentines card before or a passed a note during class, then you're pretty much ready to take on the challenge.
Explore the craft of writing by giving someone a personalized paper.