It's only a few more weeks until grade schools and high schools let out for the summer. Many colleges are already reaching the end of their spring semester. Do you know anyone who's graduating this year? If so, maybe you're planning to give them a gift, or help plan a graduation party for them to celebrate their accomplishment.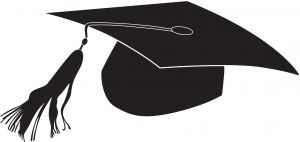 GiftsIn24.com has two great Personalized Graduation Stationery sets that make excellent gifts for the recent graduate, especially one who is just leaving high school and moving on to college in the fall. In addition to a custom printed notepad with a holder, each set also comes with some great personalized cards with matching envelopes, which will allow the recent graduate to send letters from school and stay in touch in a more personal way than just calling home. There's even a pen included with the gift sets.
If you plan a party for your recent graduate, there are several styles of personalized napkins themed for just such an occasion. Why not gather the family and friends to celebrate this accomplishment and spice up the occasion with personalized party napkins that highlight this crowning achievement in academic life? Whether you prefer the Cap and School foil-stamped napkins, or one of the other styles such as the Diploma, you can get them in the school's colors as a sort of send-off into the next phase of your graduate's life.