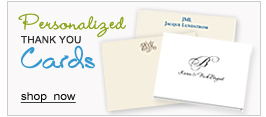 Choose Your Personalized Valentines Day Gifts
Valentines Day is a day to express your love or admiration to someone special in your life. Celebrate the spirit of love with an expressive and thoughtful gift. Visit our gallery for Gifts for Her or for Him items and find the ideal personalized stationery for your sweetheart.
Shop All Personalized Valentines Day Gifts Today!
Surprise Your Valentine With Personalized Stationery
We have many valentine and love themed items for your next celebration. Show your beloved how much you care. Customize your item with your sincere message. Impress the one you love with this generous gift.