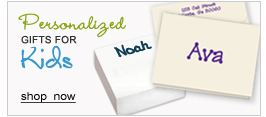 40% Off All Personalized Birth Announcements and Baby Stationery
Celebrate the arrival of a newborn with our custom baby stationery collection. Our line of birth announcements is modern, playful, cute and colorful. Visit our online gallery and find what you need here at Giftsin24.com. Choose from an assortment of personalized birth announcements, baby shower invitations, baby shower napkins and thank you notes.
Now 40% Off!
Save on all personalized birth announcements, personalized baby thank you notes and personalized baby napkins. Take advantage of this great opportunity to save. Our discounted items are marked down to provide you with more options.
Shop All Personalized Birth Announcements Today!
Giftsin24.com is Your Website for all Your Birth Announcement Needs.
Celebrate the arrival of a newborn with our birth photo announcement cards, printed on a single flat panel and made from triple-thick card stock paper. We have a full staff of knowledgeable graphic designers who will help you customize your design. Do you know if you are going to have a boy or girl? We have many gender-neutral announcement cards too.
Go traditional with our blue and pink baby inspired cards or try something different by adding ribbon embellishments, decorative tags, stripes, bubbles, shapes, baby animals or old-fashioned prams. A custom baby announcement will be a great addition to your scrapbook. We pay attention to the details and help you produce a unique card.
Want to add a splash of color? Our photo announcement cards include matching double-lined envelopes. Every card is a work of art. Display your card on your desk, mantle or bookcase with your own miniature easel.
Our shower invitations, paper favors, baby stickers, baby napkins, and baby shower thank you notes are made from the finest three-ply materials, available in 30 colors to easily match your decor. We also have 14 foil stamp colors for you to choose from. Customize your napkins with two lines of personalized text. Our napkins make memorable keepsakes. Let Giftsin24 help you announce your joyous news today.